4 people reportedly killed in fresh clashes in Turkey's mainly Kurdish southeast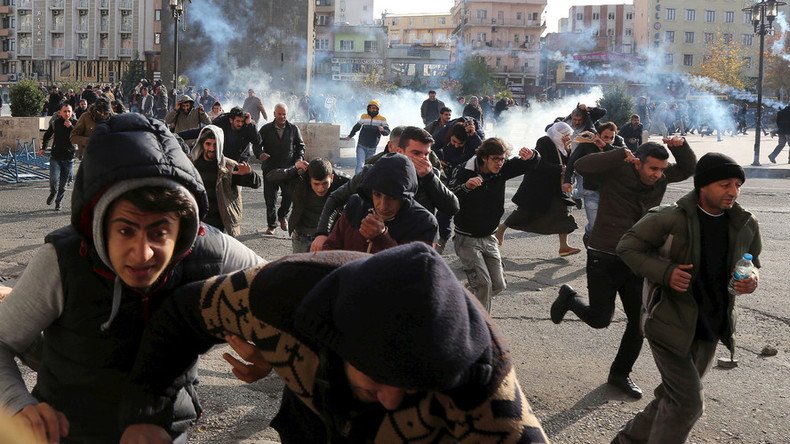 A police officer and three militants from the Kurdistan Workers Party (PKK) have reportedly been killed in clashes in the Turkish province of Diyarbakir. The latest violence comes after a massive blast in Ankara killed 37 people.
PKK fighters blocked roads and halted vehicles in the Kaynartepe neighborhood of the city of Diyarbakir and clashed with security forces through the night while a police helicopter flew overhead, witnesses told Reuters.
Security sources told the news agency that one police officer and three militants were killed in the Baglar district, which includes parts of the city of Diyarbakir.
The clashes came as a curfew was declared from 3am local time in Kaynartepe. It was later widened to include more city streets, as fighting between the two sides continued into the morning.
Police in armored vehicles parked on the streets and called for people to stay inside as gunfire and explosions rang out across the city.
Local authorities said the curfew was imposed following moves by militants to set up barricades, dig ditches, and plant explosives.
The curfew followed similar restrictions placed on two additional Kurdish towns, Yuksekova and Nusaybin.
Meanwhile, Turkey's military said on Tuesday that at least 45 rebels had been killed in airstrikes in northern Iraq, AP reported.
Houses turned to rubble
A government report has been issued on the damage caused to homes in the Kurdish district of Silopi, stating that some 6,694 houses have sustained damage following months of clashes. It added that 27 homes have been reduced to complete rubble.
However, local residents say the number of affected homes is far greater than what is included in the report.
"The government has only considered the damage that the public properties suffered while it has failed to pay much attention to harm to private property," said local journalist Sebahaddin Quinco, who has investigated the cases, as quoted by Kurdish media outlet Rudaw.
According to Quinco, 241 homes were completely leveled to the ground but were not mentioned in the report.
Turkey's military operation was completed in Silopi on February 24, following several months of fighting and a month-long curfew that began in December 2015.
The government said nearly 700 PKK guerrillas were killed, though that figure is strongly disputed by rebels, who claimed that over 120 civilians were killed in military attacks targeting private homes in Kurdish cities.
Turkey's military operation against PKK militants in the country's southeast was launched in 2015, breaking a ceasefire agreement that had held for two years.
You can share this story on social media: