Turkey declares indefinite curfew for 2 more Kurdish towns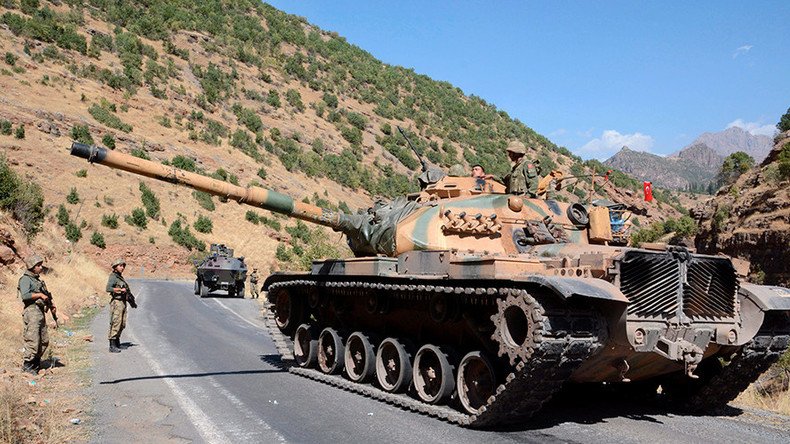 The Turkish authorities have declared 24-hour curfews for two more mostly Kurdish-populated towns in the east, officials said. Reports have also emerged that dozens of trucks carrying security forces are heading to the towns.
The curfew in the town of Yuksekova, Hakkari province, on the border with Iran, will take effect at 20:00 GMT on Sunday and will continue indefinitely, the office of the province's governor said, as cited by Turkish media. About 70,000 people live in the town, according to a 2012 census.
The governor added that entering and leaving the city would also be banned to "ensure the physical and material safety of citizens amid increasing incidents of terrorism," as cited by the Hurriyet Daily News.
Numerous social media reports claimed that vehicles carrying military personnel are heading to the town.
A curfew is also to be imposed at midnight on March 14 in the town of Nusaybin, Mardin Province, which borders Syria, province officials said. The town counts about 90,000 residents.
Dogan news agency reported that Nusaybin residents were seen leaving the town on Sunday, while several military vehicles were noticed parked at a local school ahead of the planned offensive.
READ MORE: Hundreds flee southeast Turkey warzone as 23 killed, curfew expanded in Kurdish Diyarbakir
The information comes after Turkish Interior Minister Efkan Ala said on Friday that new military operations against members of the outlawed Kurdistan Workers' Party (PKK) could be expected.
"Eight districts have been cleared. But there are still trenches and barricades in Yuksekova, downtown Sırnak and Nusaybin. The information we have gathered shows bombing traps placed there, so clearances will be conducted in those districts too," Ala said.
The Turkish military operation against PKK militants in the southeast of the country was launched in July 2015, breaking a ceasefire agreement that had held for two years.
According to the Human Rights Foundation of Turkey, at least 198 civilians, including 39 children, have been killed in military operations in the area since August.
READ MORE: 150 allegedly 'burned alive by Turkish military' during crackdown on Kurdistan Workers' Party (PKK)
The Turkish crackdown against the Kurds has been criticized by human rights groups. Amnesty International reported in January that at least 150 civilians, women and children among them, have been killed in the Turkish military operation, saying that some 200,000 people had been put at risk and were being denied access to services due to strict curfews.
READ MORE: Turkish security op, curfew in Kurdish areas puts 200,000 people at risk – Amnesty Intl.
"Cuts to water and electricity supplies combined with the dangers of accessing food and medical care while under fire are having a devastating effect on residents, and the situation is likely to get worse, fast, if this isn't addressed," said John Dalhuisen, Amnesty International's director for Europe and Central Asia, as cited in the report.
The Kurds started an armed struggle for greater autonomy in southeast Turkey back in 1984. They are the largest ethnic minority in the country and have long been campaigning for the right to self-determination and greater independence. In late December, a congress of Kurdish nongovernmental organizations called for Turkey's southeastern regions to be granted autonomy via constitutional reforms.
You can share this story on social media: