Names of Paris suicide bombers are in leaked ISIS docs – report
Published time: 12 Mar, 2016 14:36
Edited time: 14 Mar, 2016 05:47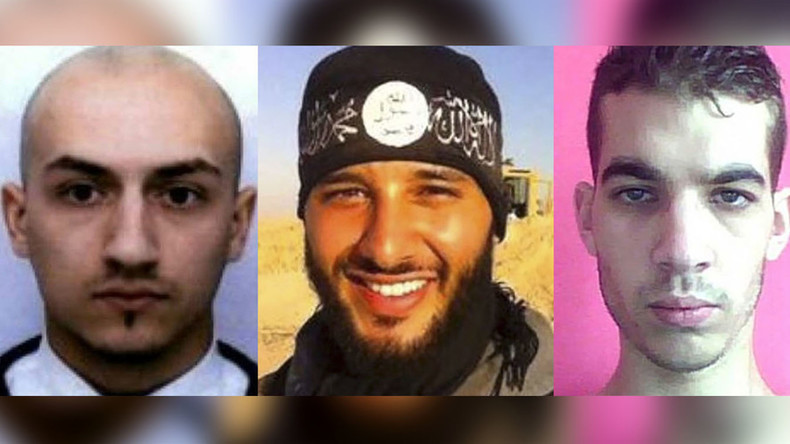 The names of three suicide bombers behind November's deadly attacks in Paris have been found in a batch of leaked Islamic State files, German media said, adding that in the documents the trio said they were eager to fight for the terror group.
The trove of documents features the registration papers of Samy Amimour, Foued Mohamed-Aggad and Ismael Omar Mostefai, German public broadcasters NDR, WDR and Sueddeutsche Zeitung said.
The trio were responsible for the attack on the Bataclan concert hall in Paris which killed 89 people and injured hundreds of others.
Foued Mohamed-Aggad, 23, was born in Strasbourg. He traveled to Syria at the end of 2013 together with his brother Karim and a group of about a dozen men, according to police sources.
The other two Bataclan attackers, Omar Ismail Mostefai, 29, and former Paris bus driver Samy Amimour, 28, were also French nationals who had traveled to Syria.
It has emerged that one of Amimour's first steps in learning how to use weapons took place in April 2012, when he enrolled at the National Police Shooting Club (ANTP) in Paris after obtaining a license.
READ MORE: Leaked ISIS 'entry forms' could expose 22,000 terrorists from over 50 states
WDR also reported that the mastermind behind the Paris attacks, Abdelhamid Abaaoud, acted under a pseudonym, Abu Omar Al-Beliki. Abaaoud was killed in an anti-terrorist raid in the Paris suburb of Saint-Denis in November 2015.
On Thursday it was revealed that a batch of leaked Islamic State (IS, formerly ISIS/ISIL) documents with the names of 22,000 militants from 51 countries was passed to UK security services. The papers, which were obtained by Sky News via a defector, could expose terrorists planning attacks in Europe.
The files reportedly contain data on Islamic State recruits from all over the world, including the UK and rest of Europe, the US, Canada, North Africa and the Middle East.
READ MORE: British jihadists unmasked in ISIS file leak
The documents feature the names of infamous IS members such as Abdel-Majed Abdel Bary, a former London rapper turned jihadi fighter, who joined the terror group in 2013 and is primarily known for an image he uploaded on Twitter last August of him with the severed head of a Syrian Army soldier. Another is Junaid Hussain, a British computer hacker who had been working for Islamic State until he was killed last August in a drone attack.
Europol director Robert Wainwright said on Friday that the police organization is "in contact with the British and German authorities regarding the veracity and wider availability of the information."
"If the provenance and accuracy of the information is confirmed, it undoubtedly represents a significant intelligence gain for Western authorities and should be exploited fully," Wainwright said.