Leaked ISIS 'entry forms' could expose 22,000 terrorists from over 50 states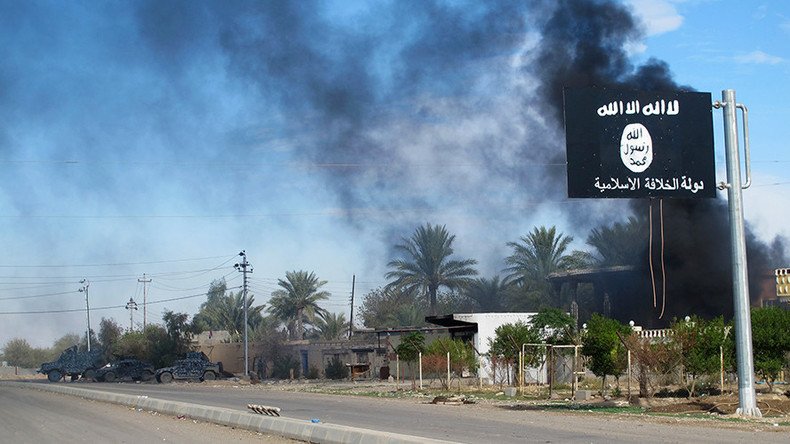 A batch of leaked Islamic State documents with the names of 22,000 militants from 51 countries has been passed to UK security services. The papers, which were obtained by Sky News via a defector, could expose terrorists planning attacks in Europe.
The files reportedly contain data on 22,000 Islamic State (IS, ISIS/ISIL) recruits from all over the world, including the UK and rest of Europe, the US, Canada, North Africa and Middle East.
The biggest chunk of the 1,736 files represents simple questionnaires which would-be terrorists had to fill out to be eligible to join the terror group. Each form consists of 23 personal questions resembling a typical job application form, apart from several points.
Some of the IS application forms appear to have been published by Zaman Al Wasl, a Syrian pro-opposition news site. The documents are penned in Arabic and stamped with IS logos.
According to Zaman Al Wasl, the majority of IS recruits are from Arab countries, with Saudi Arabia, Tunisia, Morocco and Egypt accounting for two-thirds of the jihadists. Up to 25 percent of the fighters are allegedly Saudis. The group's "foreign" (non-Arab) recruits are topped by Turks, with French nationals coming second.
The site claims that only 1.7 percent of IS recruits are Syrians, and just 1.2 percent are Iraqis. Separately, it speculates that Iraqis and Jordanians form the "backbone" of IS forces only in Iraqi regions such as Mosul and Ramadi.
Newcomers were requested to name a person who recommended them as reliable candidates – a kind of 'reference check.' The recommendation clause will likely become the subject of a particularly careful examination by security services, to which Sky has forwarded the documents.
"It will give them [the security services] an indication of not just who they are, where they come from, but will be able to potentially lead them to the individuals who radicalized these individuals as well as facilitated their departure," Afzai Ashraf, a counter-terrorism expert at the Royal United Services Institute, told the media.
The would-be jihadists also had to provide details about their previous battleground experience, home towns, countries they have traveled through, their phone number, and understanding of Islamic law. The 'applicants' were also required to list the next of kin and specify a preferable position in the group such as 'fighter' or 'suicide bomber,' and list special skills they command. One of the secured files was marked as 'martyrs' and was devoted exclusively to militants who intended to blow themselves up.
Also on Monday, Germany's Federal Criminal Police (BKA) police announced they had obtained documents disclosing jihadist identities, which could be the same forms Sky News was given access to.
German Interior Minister Thomas de Maiziere confirmed the authenticity of the find on Tuesday, saying it would facilitate "speedier, clearer investigations and stricter prison sentences," as quoted by the DPA news agency.
"It helps us to understand the underlying structures of this terrorist organization," de Maiziere added. The BKA has not provided details on how it obtained the batch.
Richard Barret, a former British diplomat and intelligence officer, who served as Director of Global Counter Terrorism Operations for the British Secret Intelligence Service, called the materials "an invaluable resource for analysts," which shed light on who was joining the terror group and why.
The documents feature the names of infamous IS members such as Abdel-Majed Abdel Bary, a former London rapper turned jihadi fighter, who joined Islamic State in 2013 and is primarily known for an image he uploaded on Twitter last August of him with the severed head of a Syrian Army soldier. Another is Junaid Hussain, a British computer hacker who had been working for Islamic State until he was killed last August in a drone attack.
The copies of the documents were provided to Sky News by a former IS member, who had stolen a memory stick with data from the chief of the group's so-called internal security police. The man, who goes under the name of Abu Hamed, is said to have become disenchanted with IS leadership for its disregard for Islamic doctrine. He explained that Islamic rules "totally collapsed inside the organization," which caused him to abandon it. Hamed, who claims to be a former member of the Free Syrian Army, a Western-backed anti-government rebel group, handed over the device to Sky in a secret location in Turkey.
READ MORE: 5,000 ISIS militants trained in Syria & Iraq walk free in Europe – Europol
In February, Europol director Rob Wainwright said that "Europe is currently facing the highest terror threat in more than in a decade," referring to up to 5,000 jihadists that returned from Syria back to Europe and remain on the loose.
"We can expect [IS] or other religious terror groups to stage an attack somewhere in Europe with the aim of achieving mass casualties among the civilian population," he added.
Since the start of the military conflict in Syria in 2011, between 25,000 and 30,000 foreign fighters have reportedly arrived in Iraq and Syria, with Europe accounting for 21 percent of the total number.
You can share this story on social media: