Erdogan accuses journalists of 'biggest attack' against Turkey, says court is 'against country' too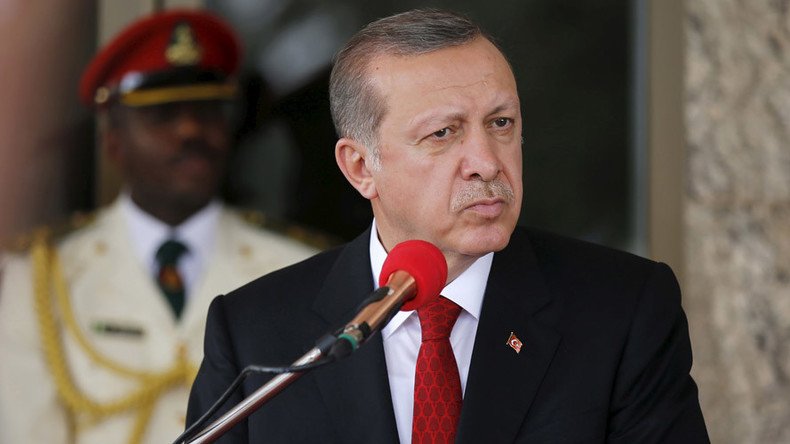 Turkish President Recep Tayyip Erdogan has warned the country's constitutional court has been undermined by its decision to release two journalists who, according to Erdogan, had written a report attacking Turkey.
"This institution, with the involvement of its president and some members, did not refrain from taking a decision that is against the country and its people, on a subject that is a concrete example of one of the biggest attacks against Turkey recently," the state leader said at a rally on Friday, as quoted by Reuters.
In late February, the constitutional court ruled that the detention of two editors from the opposition Cumhuriyet newspaper was "unlawful." The arrest of Can Dundar, the paper's editor-in-chief, and Erdem Gul, its Ankara bureau chief, violated their individual freedom and safety, the court found.
"I hope the constitutional court would not again attempt such ways, which will open its existence and legitimacy up for debate," Erdogan said in his public speech, adding that he is "obliged to ensure that the state organs work in harmony."
In November of last year, the Cumhuriyet journalists were arrested and charged with intentionally aiding an armed terrorist organization and publishing material in violation of state security following a report by the newspaper alleging that Turkey's president and intelligence officials were in on a deal to transport weapons to rebels in Syria.
READ MORE: Turkish prosecutors demand life sentences for 2 jailed Erdogan critics
The editors still face trial on March 25 for offenses that could bring them life sentences, as their release is not equal to acquittal, according to a presidential spokesman. They remain under judicial supervision and are banned from leaving the country.
Just after the journalists' release, Erdogan said he didn't "obey or respect the [court's] decision." Their case "has nothing to do with press freedom," he said, accusing them of "spying."
The president spoke out against the ruling again this week, saying the top court has exceeded its jurisdiction and "had difficulty explaining the justification."
"The constitutional court placed itself in the position of a primary court. It is not right," AFP cited the president as saying on Wednesday.
You can share this story on social media: