Trudeau visits US to discuss TPP, climate change & ISIS with Obama
Published time: 10 Mar, 2016 20:03
Edited time: 10 Mar, 2016 20:08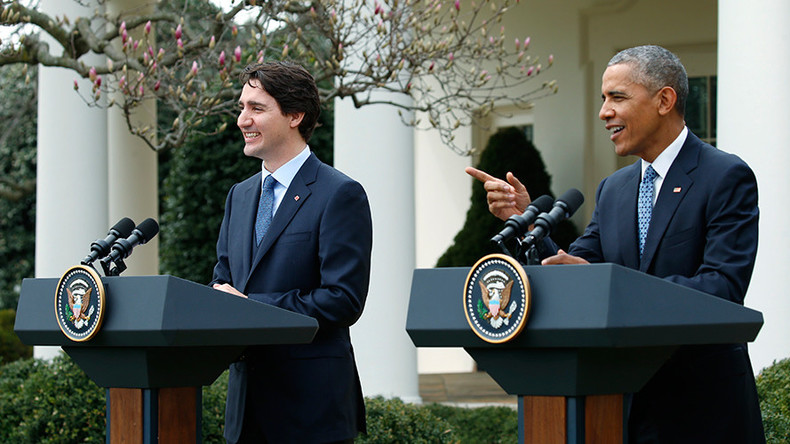 Canada's new prime minister Justin Trudeau is in Washington, DC for the first state visit by a Canadian leader in almost two decades. He is set to discuss climate change, energy exports, the TPP, Syria and ISIS with President Obama.
The two liberal leaders will hold talks in the oval office on various subjects, followed by a lavish state dinner.
Climate change
Ahead of the meeting on Thursday morning, President Obama and Prime Minister Trudeau announced new pledges on combating to reduce greenhouse emissions to combat climate change. The leaders wrote in a joint statement that US and Canada will "will play a leadership role internationally in the low carbon global economy over the coming decades" by cutting methane emissions by 40-45 percent below 2012 levels by 2025.
US officials said that they would try to implement new regulations to clamp down on the emission of methane – which has an impact on climate change 25 times greater than carbon dioxide, according to the EPA – from oil and gas facilities.
Energy relations
Relations between the two countries had previously soured over the issue of the Keystone XL pipeline, which was meant to take oil from Alberta to the US Gulf Coast, but was rejected by Obama in 2015. Previous Canadian leaders had been in support of building the pipeline to bolster the country's booming oil economy. After Trudeau's election, however, Obama said that the issue of climate change brought the two in line, according to BBC.
The leaders agreed to set "world class" standards on commercial activities in the Arctic such as oil and gas exploration in the Arctic, focusing on biodiversity and building a sustainable arctic economy.

Free trade agreements
The US and Canada have some of the strongest economic relations of any two countries in the world. The United States the recipient of 77 percent of Canadian exports, and Canada is the top destination for exports for 33 US states.
Both countries have signed the Trans-Pacific Partnership, an international free trade agreement which Obama sees as a counterweight to China's growing economic power and an important achievement of his administration. Trudeau's government, however, is expected to hold parliamentary debates before ratifying the deal amid growing opposition to the deal in Canada.
The two leaders will also discuss a decades-old dispute over softwood lumber exports. Many American officials say that the lumber is unfairly subsidized by the Canadian government, but Canadian officials disagree. The current softwood agreement expires in October, just before the US presidential election, and the leaders will try to avoid an impasse before then.
Islamic State
Last month, Trudeau fulfilled a campaign promise to suspend airstrikes against Islamic State (IS, formerly ISIL/ISIS) targets in Syria and Iraq, putting a slight damper on Obama's coalition to fight the militants. However, the Canadian prime minister agreed to boost the number of military trainers it is sending to Iraqi Kurdistan.
"Canada is an extraordinarily valued member of the global coalition fighting ISIL, tripling its personnel helping to train and advise forces in Iraq, stepping up its intelligence efforts in the region," President Obama said at a Thursday press conference.
Syrian refugees
Under Trudeau, Canada opened its doors to 25,000 Syrian refugees over the course of four months, with the prime minister saying that such a move is important because because "it defines us as a nation," according to Voice of America.
Obama has proposed a similar move to accommodate 10,000 refugees this year, but the plan has run into political resistance.
READ MORE: America, Trumped: Google searches for 'How can I move to Canada?' surge 350%
The meeting of Obama and Trudeau comes at a time when top candidates for the 2016 presidential nominations are campaigning on platforms of opposing some of what the two leaders have discussed. Republican frontrunner Donald Trump and Democratic contenders Bernie Sanders and Hillary Clinton all oppose the Trans-Pacific Partnership.
Trudeau has said that he would not "pick a fight" with Trump, despite the businessman's comments about barring Muslims from entry into the United States. Many Americans, however, have other feelings, causing the Google search for "How can I move to Canada?" to spike 350 percent.