Kids who play video games might have better social skills – study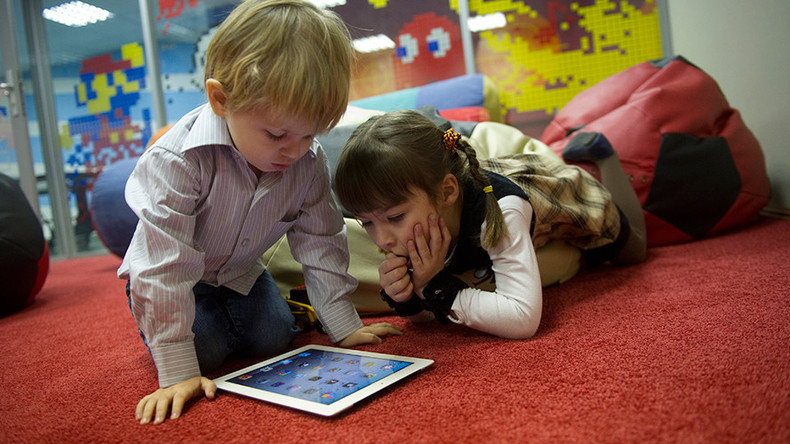 Parents worrying about their children sitting for hours in front of a computer and playing video games may be fretting over nothing. Young gamers may have better intellectual and social skills than non-gaming kids, scientists say.
Children who frequently played video games ended up having better academic performance and were also better at establishing relationships with other kids, scientists claimed. The study was published in the journal Social Psychiatry and Psychiatric Epidemiology in February.
"Video game playing is often a collaborative leisure time activity for school-aged children. These results indicate that children who frequently play video games may be socially cohesive with peers and integrated into the school community," said Katherine M. Keyes, PhD, assistant professor of Epidemiology at the Mailman School of Public Health.
However, Keyes said that parents should not get carried away with the results.
"We caution against over interpretation, however, as setting limits on screen usage remains and important component of parental responsibility as an overall strategy for student success," she said.
During the study, a team of scientists at Columbia University's Mailman School of Public Health in New York and colleagues at Paris Descartes University collected mental health data of thousands of children aged six to eleven across Europe. Parents, kids, and teachers were asked to fill out special questionnaires, which were later analyzed by the team.
The scientists found that frequently playing video games was associated with a 1.75 increase in the odds of high intellectual functioning. Kids who tended to play video games were also found to be 1.88 times more likely to have better school competence in general.
READ MORE: 97% of small children have used mobile device, most have their own – study

The researchers did not find any significant correlation between playing video games and health problems that were often brought up by parents, teachers or kids.
Based on the data obtained from questionnaires, one in five children spent more than 5 hours of video games a week.
A number of studies aimed at figuring out whether computerized tests or games might have positive effects on brain activity in adults were conducted in the past.
A 2015 report titled Improving Memory: Understanding age-related memory loss issued by Harvard Medical School suggests that people who play computer games might become better at tasks they practice while playing, but the games themselves do not enhance users' brain skills, such as attention and memory.
Another report published in 2015 in Policy Insights from the Behavioral and Brain Sciences, a Federation of Associations in Behavioral & Brain Sciences (FABBS) journal published by SAGE said that action video games have been linked to improving attention skills, brain processing, and cognitive functions.
On the other hand, a 2010 study called "Putting brain training to the test" said that there has been no evidence that computerized had a positive effect on brain activity.
You can share this story on social media: