97% of small children have used mobile device, most have their own – study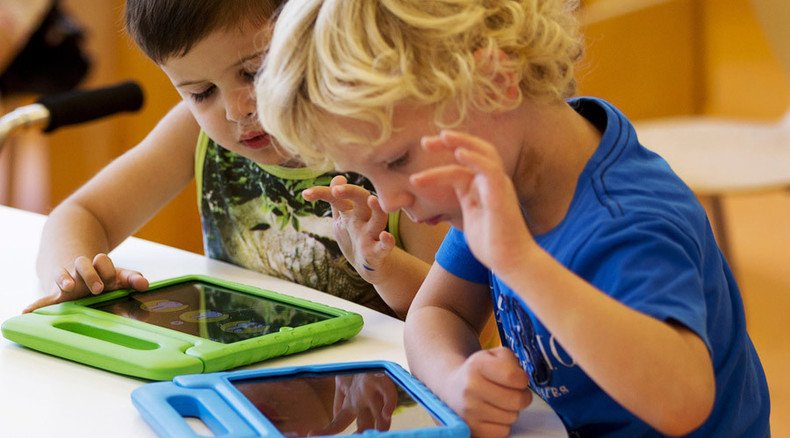 Say goodbye to the days of puzzles and outdoor play – children these days are being kept occupied by more sophisticated toys. New research has found that a staggering 97 percent of US children under the age of four use mobile devices, regardless of family income.
The research – published in the journal Pediatrics on Monday – studied 350 children in a low-income, minority community. The findings noted an "almost universal exposure" to mobile devices, indicating that such technological luxuries are not limited to financially well-off families. In fact, the parents' education and the child's gender and ethnicity did not play a role in whether a child owned a mobile device.
The child participants were between six months and four years of age. The older the children were, the more likely they were to have their own technology. By age four, about three-quarters had their own mobile device, and half had their own TV.
Ninety-seven percent were found to have used a mobile device, and about half frequently multi-tasked, using more than one device at the same time.
The study also found that 20 percent of one-year-olds have their own tablet computer, and that 28 percent of two-year-olds can navigate a mobile device without help.
Study author Dr. Matilde Irigoyen, chair of the Department of Pediatric and Adolescent Medicine at Albert Einstein Medical Center, said she was "surprised by some of the findings."
"We were very surprised to see how often the children used the mobile devices, how many of them owned a personal device, how many could use the device without assistance, and how many engaged in media multitasking," Irigoyen said.
But the impressive set of skills shown at such an early age shouldn't necessarily be surprising – because the study found that most children begin using mobile devices before their first birthday.
This was partly due to parents relying on such devices to occupy their children while they did chores, were out in public places, or running errands. In addition, 28 percent of parents said they use a mobile device to put their children to sleep.
The research also found that most households surveyed had televisions (97 percent), tablets (83 percent), and smartphones (77 percent). Just over half had video consoles (56 percent), a computer (58 percent), and internet access at home (59 percent).
Irigoyen said the idea for the study grew after physicians observed the behavior of families in a clinic waiting room.
"In the clinic, in the practice, we're seeing every mother, every father, every adult come in, and they pull out their cellphones," she said, as quoted by USA Today. She added that parents often use mobile devices to entertain their children in the waiting room.
The study consisted of a 20-question survey of 289 parents of 350 children in an urban, low-income, minority community. Questions were answered about the children's use of television, mobile devices, computers, and video games. The children had visited a Philadelphia pediatric clinic in October and November of 2014.
The findings did not address the impact that mobile devices have on children and their families, Irigoyen said, adding that "they simply describe the pervasive nature of digital exposure and the patterns of use."
The study authors have stressed the need for further research in order to update guidelines and recommendations for the use of mobile devices by young children.
The new research suggests that mobile device use among children is on the rise. In 2013, a similar study by Common Sense Media found that ownership of tablet devices among families with children aged eight and under was just 40 percent at that time, and that 75 percent of children had access to some type of "smart" mobile device.
You can share this story on social media: