Italian mayor hands out pepper spray instead of mimosas on Intl Women's Day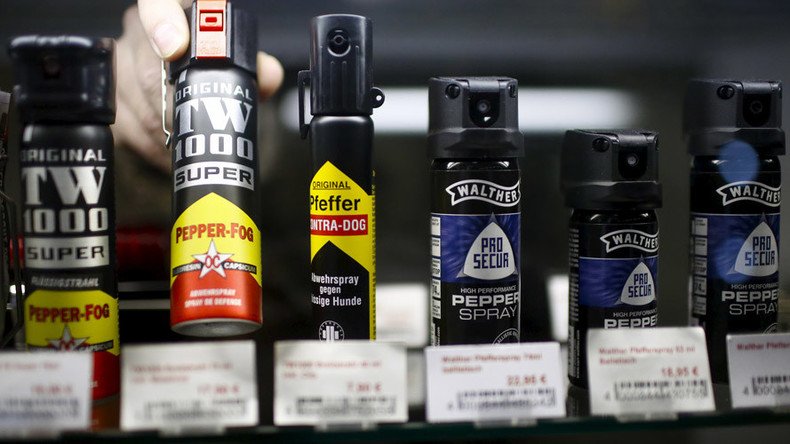 In light of International Women's Day, the mayor of one of Italy's communes decided not to present the fairer sex with anything as trite as flowers, instead going for a more "practical" gift – pepper spray.
"For March 8 we wanted to provide a simple and practical tool, entirely legal, to defend our women from the bad guys," Thomas Fiazza, the mayor of Fontevivo commune, explained to Il Fatto Quotidiano.
"Obviously the mimosas are the symbol of Women's Day, the flowers are beautiful… but too many women are molested, robbed or raped. We want to put them in a position to defend themselves in Fontevivo… Of course, with the hope that they will never use the spray," Fiazza said in explaining the reasoning behind his untraditional gift.
From March 8, all women residing in Fontevivo, which is located in the Province of Parma in northeast Italy, will be able to pick up their "anti-assault kits" after booking them via e-mail, the mayor said.
READ MORE: Vienna's far-right activists hand out pepper spray to women for self-defense(VIDEO)
The measure comes as other European countries are taking more measures aimed at defending the female population.
On Monday, police in the town of Ostersund in central Sweden told women not to go outside alone anymore. The warning was made due to reports of recent attacks in the area.
It is best for women to "arrange a ride or walk in groups," Stephen Jerand, the regional police chief, told Swedish broadcaster SVT . While maintaining that police have been doing everything possible to protect citizens, Jerand said "it is impossible to scan all the streets."
"This is serious. We care about the protection of women and that is why we go out and talk about this," he went on to stress, noting that the perpetrators may still be at large.
Since February 20, six assaults on women have been reported in Ostersund, police said, adding that at least two had been subjected to violence over the weekend. Speaking at a press-conference on Monday, police said that nothing of the kind had ever happened in Ostersund before.
Local government commissioner Ann-Sofie Andersson doubted the warnings would work and accused Ostersund police of scaring women.
"To encourage some groups to stay home and not go out can not be the solution," she told P4 Jämtland, adding that the town's police should have thought about women who work in home or social care at night.
Jerand said that police did not intend to frighten women, but wanted to raise awareness about the current state of affairs in the town.
READ MORE: Only 1% of Swedish police callouts over last 100 days involved refugees – report

"We do not want, of course, to scare people, but at the same time, we have a responsibility to tell what is happening," Jerand told SVT.
Europeans have been on alert since a massive number of sex assaults took place in Cologne on New Year's Eve, resulting in hundreds of women filing complaints asserting that their attackers had been of a foreign origin. In the past months, a wave of assaults allegedly carried out by refugees have been reported in Sweden, Austria, Belgium, and Denmark.
You can share this story on social media: