Peru tribe detains officials over oil spill anger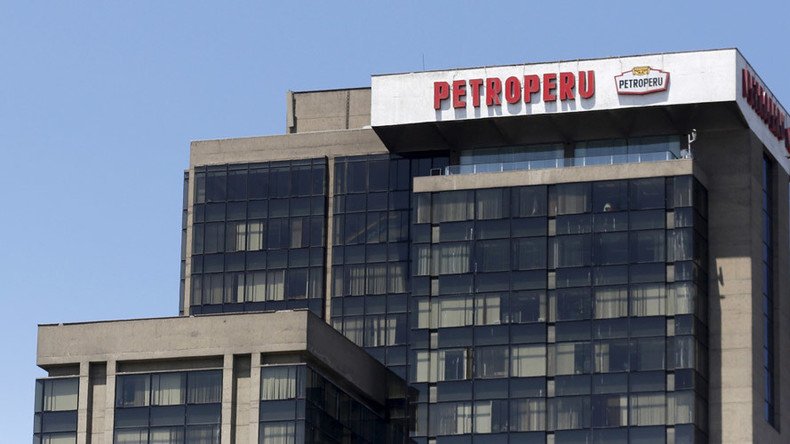 An indigenous community in the Peruvian Amazon detained members of an inspection team which was visiting the area to assess the damage from two oil spills which polluted their land. The government had previously failed to list the tribe among the people affected by the spills.
The community of the Wampis in Mayuriaga late on Sunday seized a grounded military helicopter and eight people, including an official from the oil company Petroperu, an official from the Ministry of Energy and Mines, four employees of the Peruvian environmental regulator OEFA, and two pilots.
READ MORE: Water emergency in Peruvian Amazon after 3,000-barrel oil spill contaminates 2 rivers
On Monday, four of the team were allowed to take the helicopter and leave, according to RPP Noticias. The four others were kept in detention, pending a visit from a high-ranking commission, which was delayed due to bad weather conditions.
The tribal people were angered after their community was not included on the government relief plan for those affected by two oil spills from a 40-year-old pipeline operated by Petroperu. The spills happened in quick succession on January 25 and February 3, and resulted in at least 3,000 barrels of crude contaminating the area, including tributaries of the Amazon River.
The Wampis criticized the company for its slow response to the disaster, saying their tribesmen had to rely on themselves to clean the spills while suffering from food shortages due to the contamination. In mid-February their autonomous indigenous government filed a formal complaint, demanding that the pipeline operation be stopped completely.
"This oil spill has already resulted in severe and irreparable harm to the community lands of Mayuriaga and to our collective territory as a people. Responsibility lies squarely with Petroperu, who have acted with complete negligence," said Wrays Perez Ramirez, who was elected president of the Wampis after they formed a government last November. "Over more than 40 years they have failed to maintain and repair their pipeline knowing full well that it needs constant maintenance and replacement every 10-15 years."
Ramirez added incidents like these are the reason why the Wampis consider opposing mining and oil companies exploiting their land one of the primary tasks of their new government.
The disdain for Petroperu appears to be well-grounded, as an OEFA investigation into the spills put the blame on the company, too. The regulator said the two were not isolated incidents and listed 20 other smaller failures since April 2011, when the OEFA assumed its operations. Petroperu, the damning report said, failed to adopt measures necessary to protect the environment from spills. The company is now facing some $17 million in fines.
The list that failed to include the Mayuriaga community was compiled by a local government and must be corrected as soon as possible, Deputy Culture Minister Patricia Balbuena told Reuters.
You can share this story on social media: