Water emergency in Peruvian Amazon after 3,000-barrel oil spill contaminates 2 rivers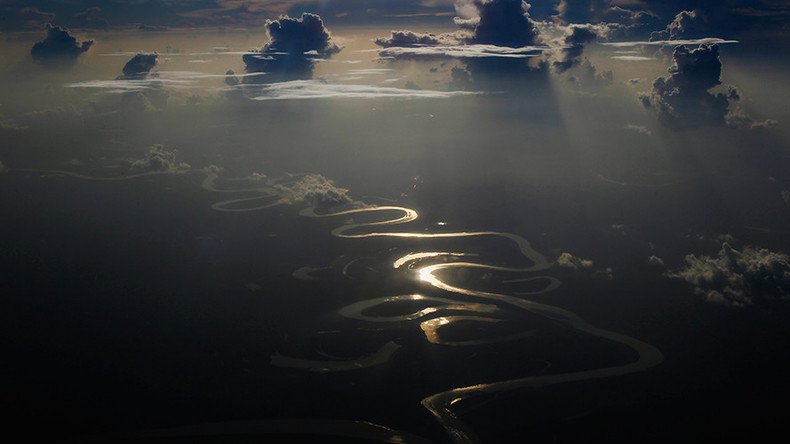 Peru is in the midst of an emergency as two rivers in the Amazon basin are now contaminated with 3,000 barrels of crude oil after the country's main pipeline burst. There are plenty of villagers relying on this water who have effectively been cut off.
The Health Ministry has declared a water emergency in five districts in the vicinity.
According to state-owned regional Petroperu, there were two separate breaks in January and early February, which have halted transportation of 5-6,000 barrels of crude per day. According to Petroperu president German Velasquez, the first rupture appears to have been caused by a landslide. The cause of the other is still being worked out.
The oil is now in the Chiriaco and Morona rivers in northwest Peru, Reuters reported OEFA, the national environmental authority, as saying. There are at least eight native-populated villages now under threat, an indigenous leader told the agency. Petroperu has estimated the amount of the spilled oil at 3,000 barrels.
The company now says it will take "some time" before operations return to normal. But its efforts have been hampered by pouring rain, which led to oil containment walls bursting and the crude flowing into the rivers.
If Petroperu, which is responsible for refining and transportation, is found to have hurt the locals' health in any way, the company faces 60 million soles ($17 million) in fines.
The OEFA told Petroperu earlier that its pipeline was in need of maintenance and repairs. "It's important to note that the spills...are not isolated cases. Similar emergencies have emerged as a result of defects in sections of the pipeline," the environmental agency said in a statement.
READ MORE: Coast Guard to use dye to investigate mysterious oil spill coating Potomac River
Velasquez says an evaluation is currently being carried out on the 1970s pipeline. But the process could take up to two months.
Allegations emerged that Petroperu was using children to help clean up the spill, something Velasquez has denied, but added he was considering firing four officials, one of whom was linked to allegedly getting children to work on the spill.
You can share this story on social media: