Moon shadow: Whirling gas clouds of Jupiter set for close-up with Earth (PHOTOS)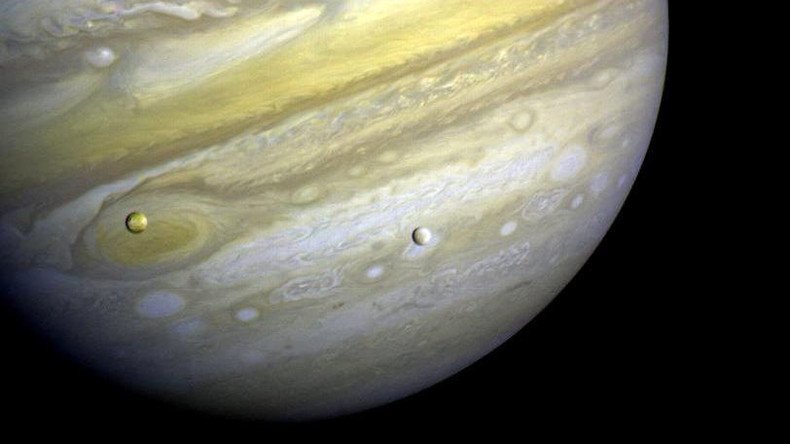 Stargazers are in line for some amazing views of Jupiter's gaseous clouds and stormy red spot this month, as the giant planet comes closer to Earth.
As well as being the solar system's largest planet, Jupiter is also believed to be the oldest and is set to dominate the night skies as it enters 'opposition' with the sun.
This positioning means the planet - made up of poisonous and explosive gas - will rise in the East just as the sun is setting, giving people an unusually bigger and brighter view of the planet.
According to NASA, the intergalactic spectacle begins March 8, and shadows from two of Jupiter's moons will be visible scooting across dark bands on the planet's surface at least 11 times before the end of the month.
Right now, NASA's solar powered Juno spacecraft is zooming towards Jupiter. The space agency is hoping to use Juno to peer beneath swirling plumes of hydrogen and helium, which form much of the planet's atmosphere.
The mission will seek to measure how much water is on Jupiter, as well as beam back high-resolution images of that famous red spot - a powerful storm more than three times Earth's diameter.
Juno is also due to venture to the planet's north and south poles - two places never captured on film before. Only one spacecraft has ever previously entered orbit around Jupiter - Galileo, launched in 1989.
Juno is set to start orbiting Jupiter on July 4, and amateur astronomers have an opportunity to determine the direction the craft goes from there.
READ MORE: NASA's Juno breaks distance-from-sun record for solar-powered spacecraft

The space agency has launched a new website for photographers to upload their images of the giant planet. NASA will then poll people about where they should direct the gaze of their spacecraft's color camera, JunoCam.
"This is really the public's camera. We are hoping students and whole classrooms will get involved and join our team," Juno's principal investigator Scott Bolton said last December.
You can share this story on social media: