Russian debt collectors cut off children's hospital phone over nurse's personal loan
Published time: 5 Mar, 2016 15:06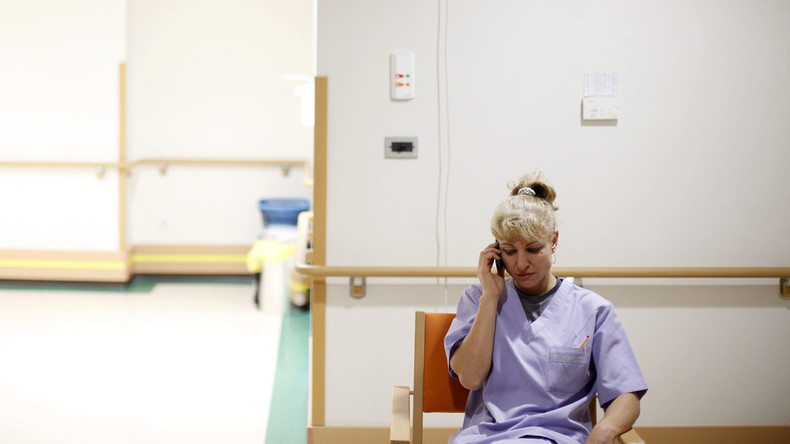 Debt collectors in the Russian city of Stavropol left a children's hospital without a telephone connection for a day, because its administration had refused to make a payment on an employee's loan.
Stavropol State children hospital received numerous calls, urging it to force one of their nurses to make good on a bank loan. Approximately 70,000 rubles ($970) were required, a hospital spokesman said. The collectors clamored for their money and threatened to apply serious measures.
"They demanded that we pay the debt urgently. Following our refusal, they informed us that all hospital phones would be blocked starting immediately," deputy chief physician Svetlana Egorova was quoted by Interfax as saying.
For a whole day the phone line was out of order. No calls could be made, but the hospital's phones rang incessantly, with prerecorded messages urging the hospital to pay up.
"It was impossible to get in touch with the admissions office or any other department - work was brought to a standstill," Egorova said.
The hospital complained to the police, to the Emergencies Ministry, state prosecutors and phone operator Rostelecom.
Egorova maintained the hospital's employee had taken steps to pay the loan back, but the bank was reluctant to cooperate with her. Alfabank reportedly sold the nurse's debt to the collecting agency, which resulted in the phone chaos.
Presidential ombudsman for children rights Pavel Astakhov promised to investigate the reports of the phone hijack on the children's hospital, which "threatened the lives of underage patients." He expressed strong discontent over the collector's heavy-handed methods.
Russian debt collectors often cause public uproar with their draconian debt-collecting measures.
In January, collectors threatened to burn down a house owned by a debtor in Ulyanovsk. One of the collectors reportedly threw a Molotov cocktail that landed by a child's bed. A toddler was badly burned in the incident.
In February, a collector made threats to a Muscovite after she was unable to pay her loan. "Have you heard the news of a Molotov thrown at a baby?" the collector inquired as quoted by the victim in a Lifenews report. The man went on to ask: "Should I come and erase you?"
At the end of February, collectors in Yekaterinburg blocked an apartment with a debtor's child inside by pouring glue into the keyhole. They also cut the phone and internet connection.
At least 22 thousand complaints have been made so far in 2015 about collectors' illegal activity, according to the Interior Ministry.
A number of debt collector-related bills have been submitted to the Russian parliament. One of the drafts totally prohibits the activity. Another suggests a set of rules limiting the amount of pressure collectors can place on a person and setting up fines of up to $28,000 for violations.