Toddler in Russia burnt by Molotov cocktail apparently thrown by debt collector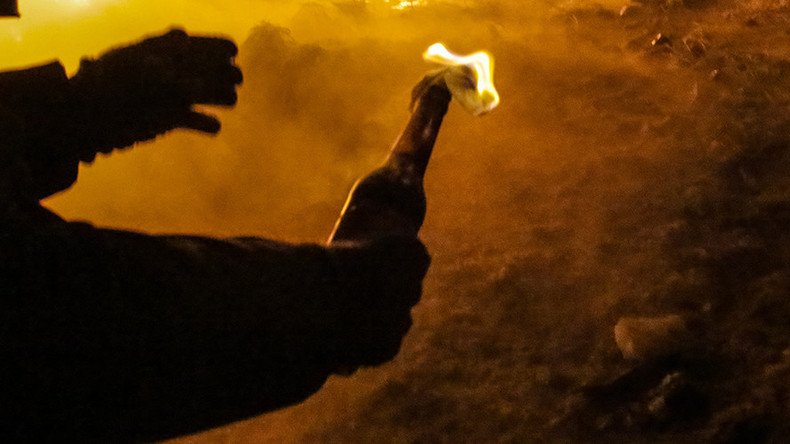 A Molotov cocktail landed in a toddler's bed in the Russian city of Ulyanovsk, burning the child's face. The bottle with the flammable liquid was thrown into the window by a debt collector, the boy's family says.
The 2-year-old boy is hospitalized with serious burns to his face and forearms. He was saved from the flames by his 56-year-old grandfather, who was also injured in the fire.
"We received a message last night, reporting that an apartment building was set on fire," Ulyanovsk police said in a statement. "A person threw a bottle with a flammable fluid as a result of which the fire began. A 56-year-old man suffering a hand burn and a 2-year-old boy with face and forearms burns were sent to the hospital."
Shortly after the incident, a 45-year-old suspect was detained, local police said. He was accused of damaging private property and a criminal case was launched. The man has already had criminal records, police reported.
The boy's family members are sure that the Molotov cocktail was thrown by a debt collector. They said they received a warning before the incident.
"A few days before the New Year collectors threw through our window a brick, to which a note was attached," the family told Lifenews. "The note said that collectors will burn our house down unless we pay them 40,000 ($522) rubles within the next five days," the family said.
Public outrage over the incident has led to the Russian Investigative Committee launching a probe into what happened.
"There are reports, that a worker at a collection agency might have initiated the fire. It is possible that by carrying out the attack he was trying to get back the debt," a spokesperson for the Russian Investigative Committee said.
Reports vary on how much money the family had borrowed. Some said that the boy's mother took a 10,000 rubles ($130) loan, while the local website ulpressa.ru said that the boy's grandfather took out a loan amounting to 4,000 rubles ($52) in 2014. He then returned 24,000 rubles ($313), but the collectors began demanding for additional 40,000 rubles ($522), blaming the rise in the debt on interest rates.
The speaker of the Russian Federal Council, Valentina Matvienko, has recently called for the cessation of collector's facilities in Russia. She said it is necessary until a policy to curb debt collectors' criminal activity is established.
You can share this story on social media: