N. Korea must be ready to deploy nuclear weapons at 'any moment' - Kim Jong-un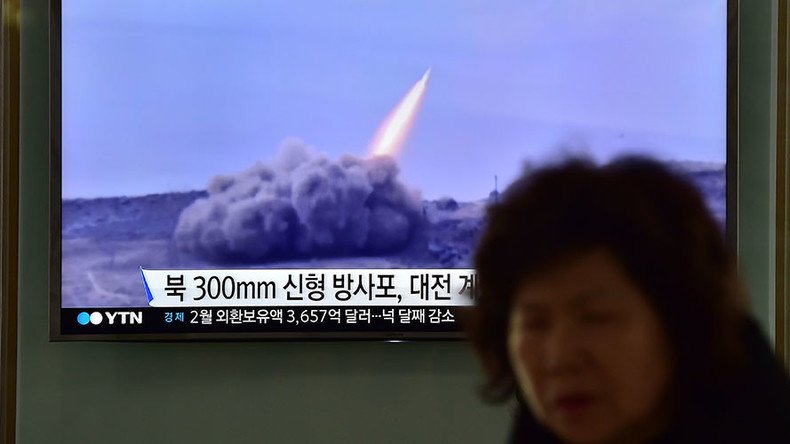 North Korean leader Kim Jong-un says his country must be ready to use nuclear weapons at "any moment," while the military should be in "pre-emptive attack mode" to combat external threats. Kim also said Pyongyang needs to "bolster" its nuclear force.
The comments by the North Korean leader, reported by state media, come just days after the UN Security Council imposed tough sanctions on Pyongyang for carrying out a nuclear test in January in which North Korea claimed to have successfully detonated a hydrogen bomb in an underground facility.
Kim said North Korea should "bolster up (its) nuclear force both in quality and quantity," while also stressing "the need to get the nuclear warheads deployed for national defense always on standby so as to be fired any moment," KCNA quoted him as saying, as cited by Reuters.
"Now is the time for us to convert our mode of military counteraction toward the enemies into a pre-emptive attack one in every aspect," Kim added.
Kim is believed to have made the comments as he supervised military exercises, which involved assessing newly-developed rocket launchers. His alarming statements also come a day after South Korea accused Pyongyang of firing a series of missiles from its east coast into the sea.
South Korean defense spokesman Moon Sang-gyun said the projectiles were launched from the eastern coastal town of Wonsan on Thursday. Meanwhile, an unnamed official from Seoul's Joint Chiefs of Staff mentioned that the missiles flew about 100 to 150km before coming down in the Sea of Japan, or East Sea as it is called in South Korea, according to the AP.
New sanctions imposed on North Korea include the inspection of all shipments to and from the country. A ban on exporting items that could be used to contribute to the operational capabilities of Pyongyang's armed forces, such as trucks, was also introduced.
On Friday, the Philippine Coast Guard inspected a North Korean cargo vessel, which docked at a port north west of the capital, Manila, and was one of the first checks since the UN introduced its new sanctions. Officials said they did not find anything suspicious on board.
"No kind of sanctions will ever work on us, because we've lived under US sanctions for more than half a century," Pyongyang resident Song Hyo-il said, as cited by AP. "And in the future, we're going to build a powerful and prosperous country here, relying on our own development."
Russia's ambassador to the UN, Vitaly Churkin, says North Korea has not taken any lessons on board, after the latest round of sanctions imposed by the Security Council.
"It means that they're not drawing the proper conclusions yet," said Churkin.
Meanwhile, South Korea's plans to conduct joint drills involving over 100,000 military personnel next week have inflamed Pyongyang's leadership, who responded by threatening to target the presidential Blue House in Seoul, as well as US military bases both on South Korean and US soil.
You can share this story on social media: