Ex-Gitmo chief ignores French court summons to testify on torture
Published time: 2 Mar, 2016 15:56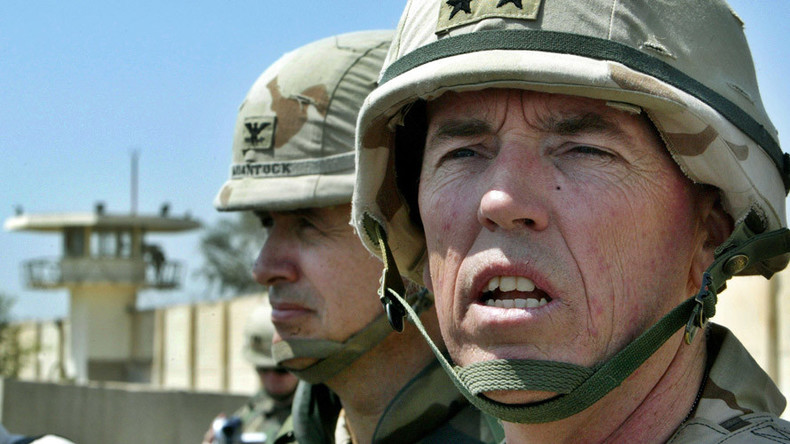 The ex-chief of Guantanamo prison, Geoffrey Miller, has ignored a summons by a French court to testify over accusations of torture made by two former detainees who spent up to 4 years at the facility.
A Paris court ordered General Miller, who was in charge of the infamous Guantanamo Bay prison from 2002 to 2004, to give testimony over charges of unlawful detention and torture brought by two former prisoners.
French citizens Mourad Benchellali and Nizar Sassi were captured by Pakistani forces in 2001 in the aftermath of the 9/11 terror attacks and were handed over to US Army officials. They were suspected of having ties to Al-Qaeda as they had spent two months at a terrorist training camp in Afghanistan. However, the defendants claimed they had been taken to the camp under false pretenses and had never used their 'skills' in combat.
Sassi and Benchellali were released from US custody in 2004 and 2005 respectively, having been interned at Guantanamo, and were taken back to France for trial. They were both acquitted in 2009.
Miller's failure to appear in court is "a dual act of contempt against the French judiciary; he both refused to appear and to provide any explanation about his role and that of the US administration," the detainees' lawyer William Bourdon said, according to AFP.
Since being set free Benchellali has written a book entitled "Journey to Hell," in which he describes his life as a Gitmo detainee.
"I cannot describe in just a few lines the suffering and the torture; but the worst aspect of being at the camp was the despair, the feeling that whatever you say, it will never make a difference," he wrote in his op-ed for the New York Times back in 2006.
Over the past several years, Sassi and Benchellali have demanded that Miller be questioned about his role in encouraging torture practices at the prison. According to a report from the European Center for Constitutional and Human Rights, Miller "implemented newly established interrogation techniques that violated the 1949 Geneva Conventions" – including sleep deprivation, forcing detainees to stand or crouch, the removal of clothing and religious items, and exposure to extremes of heat and cold. The newly-introduced interrogation methods were approved by then Secretary of Defense Donald Rumsfeld.
In a report submitted to a French court in 2014, the former detainees accused General Miller of "an authorized and systematic plan of torture and ill-treatment of persons deprived of their freedom without any charge and without basic rights."
Miller also was summoned to testify in America over abuses of prisoners in Guantanamo and Abu Ghraib, the infamous prison used by the US during the Iraq war.
The general left military service in 2006 and was awarded a Distinguished Service Medal for "exceptionally commendable service."
Despite President Barack Obama's repeated promises to shut down the disgraced detention facility, his final year in office marks the 15th year of Guantanamo's operation. The prison was opened following the attacks of September 11, 2001, to house terrorist suspects, and quickly became a symbol of torture and human rights abuse.
On February 23, Obama submitted a plan to close Guantanamo in a bid to deliver on a promise he made as a presidential candidate in 2008.

READ MORE: Obama's plan to close Gitmo panned by Republicans, civil rights activists
"I don't want to pass this problem on to the next president, whoever it is. And if, as a nation, we don't deal with this now, when will we deal with it?" he told a press conference.