Turkish military bombs ISIS positions in Syria – local media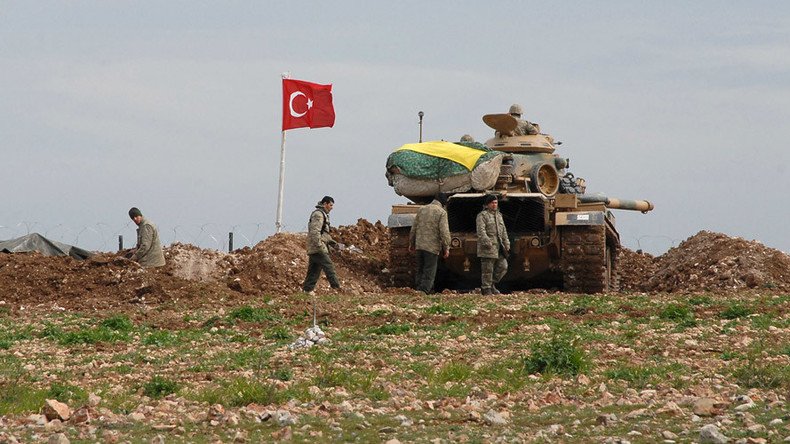 The Turkish military struck Islamic State positions inside Syria on Monday, local media reported. It came as Turkish President Recep Tayyip Erdogan stated that he would be in favor of a Syrian ceasefire that encompasses the whole of the country.
Fifty artillery rounds were fired by the Turkish military on targets north of Aleppo on Monday as part of the US-led coalition's offensive against Islamic State (IS, formerly ISIS/ISIL), Turkish broadcaster NTV reported.
On Sunday, a Russian TV crew managed to obtain video proof of Turkey's increased military presence on the Syrian border, which showed fortifications and tanks at the frontier.
"The barrels of the tanks and self-propelled guns are pointed in the direction of the mainly Kurdish Syrian city of Kobane," a journalist from REN-TV said.
It came just one day after reports emerged of the northern Syrian town of Tell Abyad being attacked by militants coming from Turkey.
In an interview to Al Jazeera last week, Turkish Prime Minister Ahmet Davutoglu denied that Turkey had any intent to invade Syria. He did, however, admit that Ankara is supporting armed groups in Syria, as part of its fight against terrorism.
"How would they be able to defend themselves if there was no Turkish support for the Syrian people? If there's a real moderate Syrian opposition today, it's because of Turkish support. If the [Assad] regime isn't able to control all the territories today, [it's] because of Turkish and some other countries' support," he said.
Davutoglu went on to state that he isn't optimistic when it comes to the US-Russia brokered Syrian ceasefire, which requires government troops, so-called "moderate" opposition fighters, and the Kurds to lay down their arms.
"Of course, we want to have ceasefire and peace in Syria. There's no other country more affected by this crisis like Turkey. But...we have to be realistic. We're not very optimistic because until now, all these diplomatic negotiations are being misused by the regime, by Russia, by Iran and pro-Iranian elements on the ground to kill more people. I have to be very frank. Talking on one side to gain time, and attacking on Syrian civilians on the other side, this initiative can't be successful," he said.
Erdogan stressed on Monday that the ceasefire – which went into effect at midnight local time on February 27 – only covers one-third of Syria, adding that he would be in favor of a truce that encompassed the whole of the country.
However, Ankara has made clear that it will continue to fight IS and the Syrian Kurds during the ceasefire, with Davutoglu stating that Turkey will take all "necessary measures."
Announced by the Russian and US presidents on February 22, the ceasefire – which will be monitored by a task force co-chaired by Moscow and Washington – does not apply to IS, Al-Nusra, and other groups regarded as terrorist organizations by the United Nations Security Council.
"They are totally exempt from the truce. Strikes against them will continue," Russian President Vladimir Putin said.
You can share this story on social media: