Nigerian pirates threaten to kill captured Russian sailor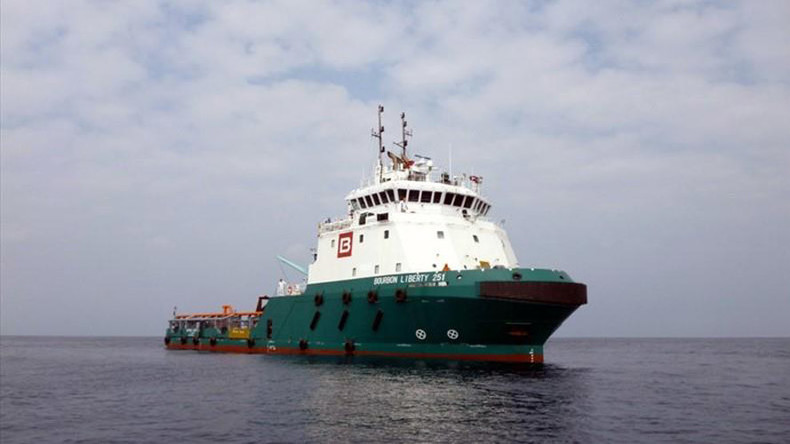 Maritime bandits who abducted a Russian seaman after a failed attack on a ship off the Nigerian coast threaten to kill the captive unless an unspecified ransom is paid.
Reportedly, six heavily-armed pirates attacked offshore support vessel 'Bourbon Liberty 251' last Tuesday in the Gulf of Guinea, 55 nautical miles off the Nigerian coast. The vessel's crew managed to send a distress signal, alarming Nigerian authorities.
The Nigerian Navy immediately dispatched a task force that sent pirates fleeing, yet they had kidnapped two sailors, obviously to use them as a human shield.
The pirates looted the ship and damaged its communication equipment, while most of the crew managed to hide in the engine room.
The abducted sailors are a Nigerian national and Russian citizen, Ivan Rudny, native to the northern city of Murmansk, Bourbon company representative Roman Dubovitsky confirmed to Interfax.
"One Russian (the ship's Master) and a Nigerian were abducted from 'MV Bourbon' before 'NNS Centenary' was able to contact and rescue the vessel from the hijackers. Efforts are currently ongoing to ascertain the whereabouts of the abducted crew men," the navy said in a statement.
Nigerian authorities have launched an investigation into the incident, while the vessel's operator is maintaining direct contact with the abducted crewmembers' families to support them while the situation unfolds.
The remaining 10 members of the crew safely got to the Nigerian port of Onne on board their vessel.
'Bourbon Liberty 251' was built by China's Zhejiang Shipbuilding in Ningbo in 2011. The vessel is managed by French offshore vessel operator Bourbon and is operating under the flag of Luxembourg.
You can share this story on social media: