Pirates of West Africa: Tanker with Russian crew found near Nigeria
Published time: 30 Aug, 2012 04:02
Edited time: 30 Aug, 2012 08:02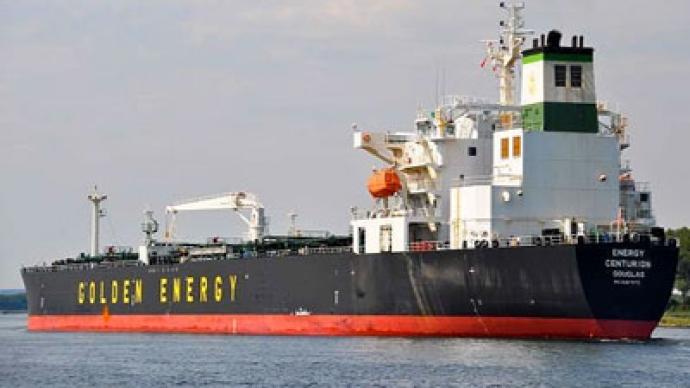 The Energy Centurion oil tanker seized by pirates in Togo's territorial waters was found off the coast of Nigeria still under pirate control. All the crew members are believed to be safe, as the pirates seem to be interested only in stealing cargo.
­"The vessel is presently sailing off the coast of Nigeria under the control of pirates who have the intention to steal the cargo," ship owner Golden Energy Management announced on Wednesday.
The Greek-owned Energy Centurion, with 23 Russian nationals aboard and one Greek citizen, was carrying an estimated 50,000 tons of diesel fuel and gasoline. The tanker and was found by a French Navy ship a day after it was seized 30 kilometers off the coast of Togo.
Unlike Somali pirates, who attack ships to get ransom for the vessel and the crew, the West African pirates are only interested in the cargo, Nick Davis, the CEO of Gulf of Aden group transits told RT. West African piracy "is very different to the piracy of East Africa," he said. "This is all based around oil. This is not around the attackers wanting anything to do with the crew. They just want the cargo."
Davis believes it is too late to intervene, and the best choice would be to let the pirates transfer the fuel and release the hostages.
"The cargo is insured," he explained. "Let them transfer it, keep the crew alive and then stop the next [attack]."
Piracy in West Africa is growing in intensity, and over the last few months there has been a major increase in the amount of attacks in the region. In the latest incident on August 18, British tanker Anuket Emerald was hijacked by pirates and released five days later, its cargo stolen.
NATO military vessels as well as Russian and Chinese fleets that patrol Africa's east coast have played an "absolutely major role" in suppressing and reducing the piracy, Davis says, adding that the situation in West Africa is completely different.
"It needs different skills, needs a lot more coordination," he explained. "However, with the countries involved, I think everybody when it comes to oil and the revenue that is generated from that, it is a completely different ball game."