Pursuit of Hoppiness: America's first 'Beer Bath' spa just latest in bizarre beauty fads
Published time: 25 Feb, 2016 18:53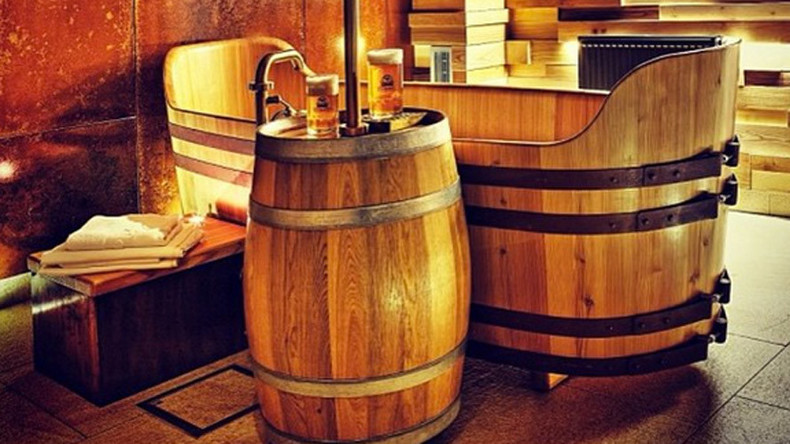 While Cleopatra allegedly preserved her beauty by bathing in donkey milk, millennials are opting for something slightly less creamy, and definitely more fun - beer.
'Hop in the Spa' is America's first beer spa, and it indulges craft loving hipsters and pampering enthusiasts alike.
Based in Sisters, Oregon, Hop in the Spa offers clients all the benefits beer has to offer from 'Microbew Soaks' (basically, a beer bath), 'Brew & Renew Body Polish', and an 'Ale Foot Soak', ranging from $55 to $75.
The "beer-inspired ingredients" promise to improve skin tone, reduce stress, and detoxify. That said, Europe has been on the 'beer spa' bandwagon for sometime, you can find them in Germany, the Czech Republic and Austria.
Of course, in today's endless search for the fountain of youth and beauty, this is not the strangest spa treatment on the market - not by a long shot.
Tokyo's Snail Facial
Japanese women are lining up to reap the moisturizing benefits of, snail slime. If a trip to Tokyo is out of your beauty budget, however, you can now buy moisturizer that comes with added snail goo online.
New York's Bird Poop Facial
Legend has it that Japanese Geishas would remove their heavy porcelain-like makeup with 'Nightingale Excrement', otherwise known as bird poop. The Shizuka Day Spa in New York City offer the 'Geisha Facial', 'powdered nightingale droppings' included, for a mere $180.
Japan's Sake Bath
Not unlike Europe's 'Beer Bath' Japan have the 'Sake Bath', which is pretty much what you would expect it to be. However, they've gone at least one step further by offering baths in green tea, coffee, red wine and... ramen noodles. Yikes.
Israel's Snake Massage
Ada Barak's Carnivorous Plant Farm in Israel offers a relaxing massage in which snakes slither over your scalp, shoulders and neck. The $80 "therapeutic" massage is said to help relieve migraines and muscle pain. (Or you could get a regular massage that won't be so deeply disturbing and nightmarish…)
Sweden's Placenta Facial
Swiss clinics in Montreaux have been offering injections of live sheep placenta cells for several years now, amid claims the cells will nourish the skin and prevent aging. While the trend initially proved popular with Chinese patrons, CNN reported a major escalation in the treatment in 2008, saying a Beverly Hills skin clinic was offering human placenta facials - using materials reportedly obtained from "Russian maternity wards" - for up to $500.