That's your lot: Egyptian president up for sale on eBay
Published time: 25 Feb, 2016 14:07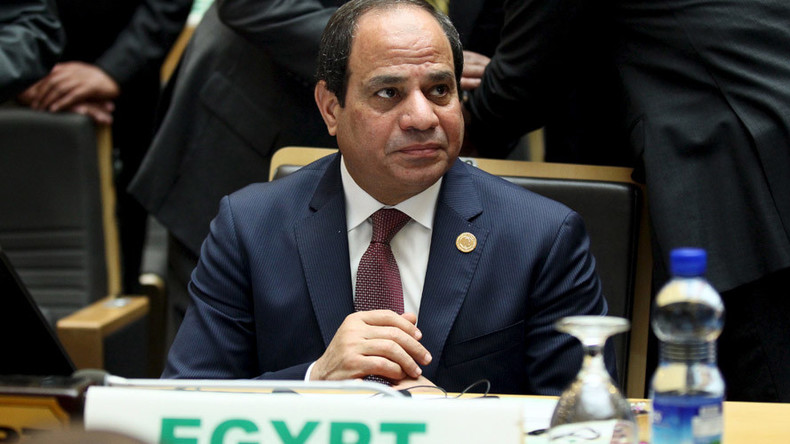 One eBay user has come up with a novel way of following Egyptian President Abdel Fattah al-Sisi's extravagant ideas on how to save the country's failing economy – by putting the leader up for sale on the well-known online auction site.
Egypt's president and military leader rose to power in a 2014 coup, ousting his predecessor Mohammed Morsi. In a speech on Wednesday he brazenly offered to sell himself, should that help to halt the post-coup downward spiraling of the economy.
"If it were possible for me to be sold, I would sell myself," he said in a speech on state television, while also reportedly asking Egyptians to donate to public funds.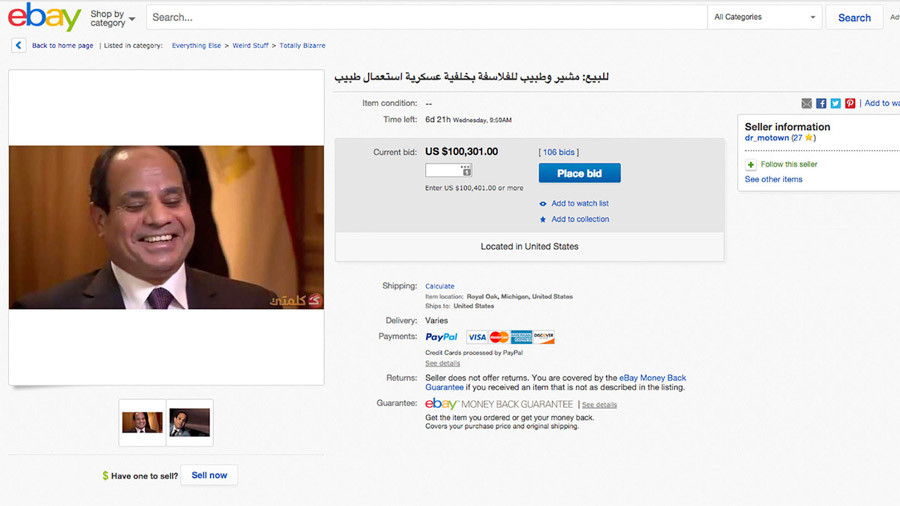 One eBay user, dr_motown, whom the New York Times identifies as Ahmed Ghanim, an Egyptian political activist living in the United States, was quick to take the president up on his offer and put him up for sale, listing the leader as "slightly used" under the category "Weird Stuff" and "Totally Bizarre."
"The field marshal himself stated that if selling himself will help, he will not hesitate to do it. So, we are doing it for him, for us and for the humanity. Please, bid now to help Egypt gain its political and economic independence...you will not regret it!" the description read.
Unfortunately for Egypt's economy, the listing was removed later on Wednesday with bids exceeding US$100,300.
Ghanim has been an eBay member since 2004 according to the website.
While the fun lasted, he engaged in a bit of friendly banter with his bidders, exchanging messages on the lot's condition.
The president is, he explained, "used by the previous owners (Gulf royal families)" and comes with free shipping. He also mentioned that the item "has no value" so he relied on bidders to determine the cost.
Although the sale didn't go through, it's worth remembering some bizarre successful deals that took place in the past.
READ MORE Corbyn's used coffee cup sells for £51 on eBay
In 2004, a grilled sandwich resembling the Virgin Mary sold for $28,000 in the States. Just last year, a lunch with Warren Buffet went for $2.3 million, with the proceeds going to charity. And all that while the meaning of life itself sold for a meagre $3,26 back in the year 2000 – perhaps due to it being such early days for the website.