Man miraculously saves toddler from fatal car crash (VIDEO)
Published time: 24 Feb, 2016 18:06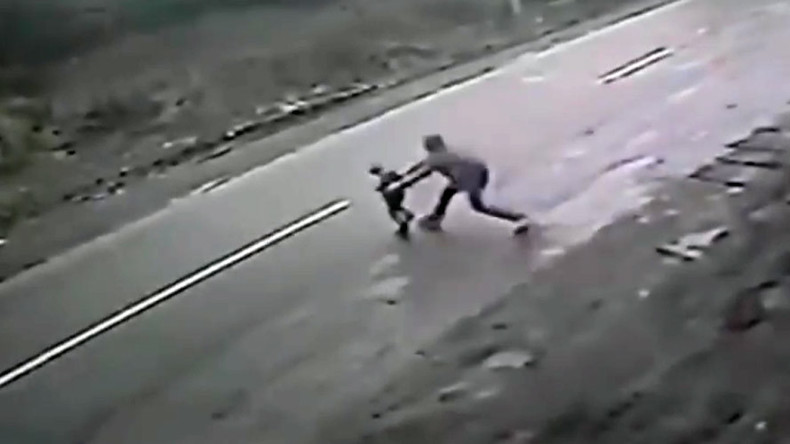 A four-year-old boy would have probably been killed in a car crash but for a steel-hearted man who didn't hesitate a second before rushing to the rescue – getting run over in the process.
A shocking 40-second video begins with a little boy getting ready to run across a two-lane road. As soon as the boy takes off, a man hurries after him, eager to push him to the other side of the road to save him from an oncoming car.
The man nearly succeeds, but the car still barrels into them both at full speed.
The incident occurred on February 19 in a southwestern province of Ukraine. The video was made public only four days later by Mukachevo.net local news website.
An ambulance arrived soon after the accident and took the man and the boy to hospital.
Fortunately, both the boy and his savior got off cheaply. They were deeply shocked, but sustained no injuries, even slight, a medical check-up determined afterwards.
"I didn't think about the consequences at that moment, I simply did the right thing. There was no time to think if I would manage to save the kid or not, but leaving him was not an option. It wasn't the driver's fault. The boy appeared on the road unexpectedly and there was nothing he could do," the hero, named Ivan Pitukh, said.
The stretch of road where the incident took place is actually very dangerous, as motorists tend to go well over the speed limit there, law enforcement reported.