Up to 30,000 flock to Japan parliament to protest US base relocation in Okinawa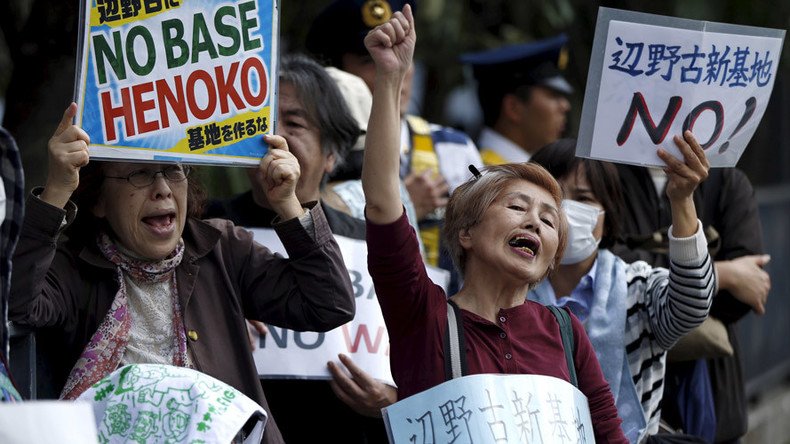 Thousands of people encircled Japan`s parliament to protest against the relocation of a US military base on Okinawa island. At the same time more students marched through the streets objecting the government`s plan to allow Japanese military to fight overseas.
The protesters, holding signs reading "No" or "Protect Henoko" and chanting "Don't build the base" staged a rally against the Japan`s government intention to relocate the functioning US marine base Futenma, stationed in a densely populated area of Ginowan, to a facility in Henoko, also on Okinawa.
Over 28,000 people joined the rally, according to Kyodo news agency. Opposition rallies were also held in the cities of Toyama, Okayama, Sapporo, Nagoya and Osaka.
The Japanese and American governments proposed moving Futenma from the crowded Ginowan to the less-populated Henoko coastal area of Nago already as early as1996. This was an attempt to subdue tensions among locals after a schoolgirl was raped by a US servicemen.
However, authorities had to face strong opposition from the locals, who wanted to get rid of the base once and for all. A lot of residents complain that stationing of a US base in Okinawa will result only in negative consequences such as an increase in crime and noise as well as contributing to pollution.
"The central government is trying to force through landfill work to move the base to Henoko, but justice and righteousness are on our side," Nago Mayor Susume Inamine said at the rally in Tokyo, according to The Japan Times.
"We can never tolerate a government that ignores democracy and local autonomy," he added.
Okinawa was the only site of Japanese ground troop battles in WWII, following which the US military occupied the island for 27 years returning it to Japan only in 1972. Many people denounce the fact that it now hosts about 75 percent of US military facilities in the country.
Japan's PM Schinzo Abe reiterated last month that relocation of the base is the only option available despite the growing dissent among locals and Okinawa authorities, who seek to cancel the approval of the project back in 2013.
"The government says we are to blame that the issue has stalled for 19 years and they tell us to find an alternative place [for the base relocation]. That is outrageous," mayor Inamine said as cited by International Business Times.
The same day, the protests against another militarist measure – the enabling of Japanese military engagement abroad – propelled by Abe government, were organized by a group of teenage students. They held banners reading "Teens against war law" and "War is over" appealing to the Article 9 of the constitution which "forever renounces war as a sovereign right of the natation."
Various estimates put the number of protesters at 100-5,000 with similar rallies reported in 14 other prefectures across the country.
You can share this story on social media: