Okinawa sues Japanese govt over plans for construction of new US military base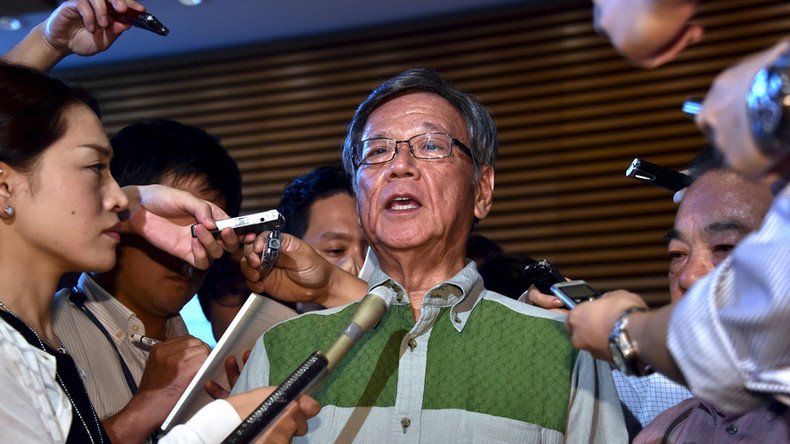 The governor of Okinawa has filed a lawsuit against the government of Japan to stop the relocation of US Marine Corps base Futenma to another part of the region. A relatively small island, Okinawa hosts more than half the US troops in Japan.
"We will resort to every possible measure and will not allow the new base to be built in Henoko," Governor of Okinawa Takeshi Onaga told a press conference on Friday, as quoted by Japan Today.
Onaga's lawsuit adds to an ongoing legal war with Tokyo to revoke the government's decision to construct a new military base for US troops in northern Okinawa. The current USMC Air Station Futenma is planned to relocate there under US-Japanese arrangements citing "less military impact" on the island's population.
Governor Onaga took office in 2014 with his electoral campaign based mainly on his anti-relocation promise. Earlier in October, he canceled a 2013 decision by former governor Hirokazu Nakaima allowing construction works at Henoko Bay, also known as Nago, a town planned to host the new USMC airbase.
In response, Japan's Ministry of Land, Infrastructure, Transport and Tourism suspended Onaga's cancelation decree, while in November the central government sued him to retake control of the construction project.
READ MORE: 'Marines out!' Okinawa demonstrators mark 500th day of protest against US base (VIDEO)
More than a simple bureaucratic battle, the relocation issue reflects the decade-long demand by Okinawans to eject US military presence from the island entirely. The residents cite a long record of pollution, noise, public disorder and crime, including sexual abuse that comes from US base Futenma, located slap in the middle of residential blocks in the town of Ginowan.
The massive base includes a 2,740-long runway, extensive barracks, administrative facilities and hangars, and hosts around 3,000 US Marines of 1st Marine Aircraft Wing. The base has existed since 1945 and was built by US troops during the Battle of Okinawa – one of the bloodiest in the Pacific theatre. It took the lives of more than half of the estimated pre-war 300,000 civilian population.
Under US-Japanese Status of Forces Agreement (SOFA), the tiny island of Okinawa hosts approximately 62 percent of the US troops in Japan altogether. Military installations such as Yokota Air Base, Naval Air Facility Atsugi and Kadena Air Base are sited near residential districts polluting the air and environment. Local residents complain about excessive aircraft noise.
Okinawa is critical for US military presence in the Pacific due to its location allowing fast reach to neighboring China, Russia and Southeast Asia.
You can share this story on social media: