Fury in Seoul after Pyongyang calls S. Korea leader 'crazy old b*tch'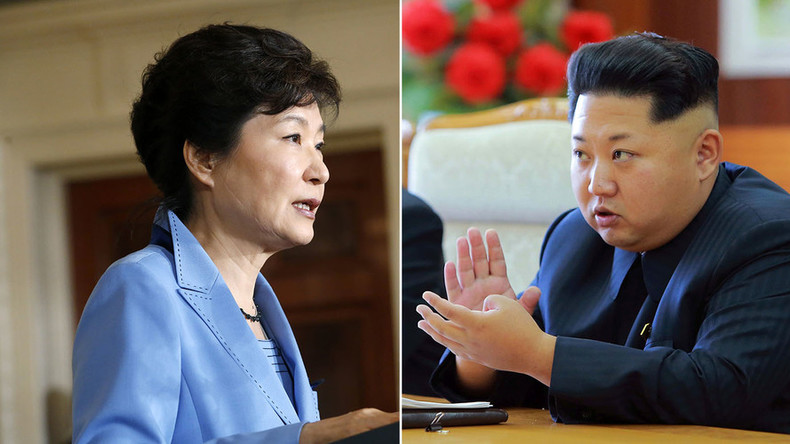 Pyongyang has taken the war of words with Seoul to a whole new level, having labeled the South Korean president a "crazy old b*tch." This was in response to President Park Geun-hye calling Kim Jong-un's rule an "extreme reign of terror."
"We express strong regret over... the North's personal attacks that targeted our head of state with such base, vulgar language," Seoul's Unification Ministry, which oversees cross-border affairs, said in a statement, as quoted by AFP on Sunday.
The latest headlines in the Rodong Sinmun, the official newspaper of North Korea's ruling communist party, described 64-year-old South Korea's President Park Geun-hye as a "murderous devil."
However, the mouthpiece of the party went even further, sliding into personal and sexist assaults, according to AFP.
"This tailless crazy old bitch called Park Geun-hye is heaping further misery on our people, already suffering from the tragedy of division," one article said.
The diatribe was strongly worded even by the standards of North Korea's normally florid anti-South propaganda.
Other appellations included that "senile old woman" seeking to topple the North's government with her recent moves to punish Pyongyang.
Last Monday, President Park addressed parliament and said North Korea's regime would fall. She described her counterpart in Pyongyang as "merciless," and that he keeps his people under an "extreme reign of terror," referring to previous executions of top military and party officials.
She also told lawmakers that Seoul would instigate "stronger and more effective" measures in such a way that North Korea comes realize that its nuclear developments will only speed up the "regime's collapse."
Earlier in February, Pyongyang launched a satellite into orbit, perceived by many as a concealed fire test of a long-range ballistic missile. The launch was widely condemned by the UN Security Council as well North Korea's neighbors South Korea and Japan.
In response, South Korea launched massive military drills, fuelled by high-profile demonstrations of US military might, seen by Pyongyang as a deliberate provocation.
The latest show of force included a fly-over of the US B-52 bomber off the Korean peninsula, as well as deployment of F-22 stealth fighters to an airbase in South Korea.
In response, Rodong Sinmun castigated Park as the "dumbest of the dumb." And in another article: "This invalid, morally depraved human being... never showed any goodwill for other human beings as well as her people," the newspaper wrote, cited by AFP.
Park, daughter of late die-hard President Park Chung-hee and the first female head of state in East Asia, is an object of frequent personal attacks in the North Korean media.
In 2014, in the wake of Barack Obama's visit to Seoul, the Korean Central News Agency (KCNA) quoted the Committee for Peaceful Reunification of Korea as saying: "Park Geun-hye's recent behavior with Obama was like a mean immature girl begging gangsters to beat up someone she does not like.
"Or a crafty prostitute eagerly trying to frame someone by giving her body to a powerful pimp," it added.
You can share this story on social media: