Paper war: N. Korea spams South with 1mn propaganda leaflets in response to border loudspeakers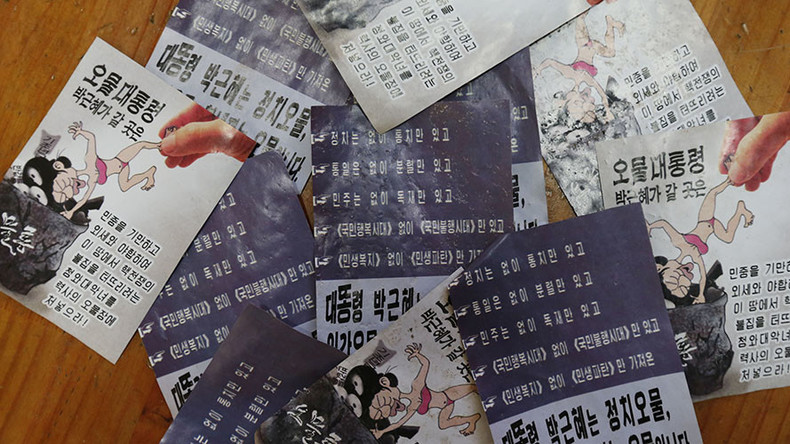 North Korea has unleashed around a million propaganda leaflets by balloon on its Southern neighbor and enemy, with some of the materials even managing to reach Seoul.
The barrage of leaflets landed on South Korean territory since the night of January 12, when the North was detected launching plastic balloons, presumably carrying fliers, the South Korean Defense Ministry reported.
"Since the first related news report, the North Korean military is spreading leaflets on almost a daily basis," Defense Ministry spokesman Kim Min-seok said at a press briefing. The leaflets are landing dozens of kilometers away from the border, even reaching Seoul and its neighboring areas, he added.
There are at least four different types of flyers. The leaflets criticize South Korean President Park Geun-hye and her administration's decision to resume anti-North propaganda broadcasts through loudspeakers along the border.
"Knock out the gang of Park Geun-hye who aggravated North-South relations by resuming anti-North psychological warfare broadcasts," the Yonhap news agency cited one of the leaflets as saying.
"Stop the anti-North psychological warfare broadcasts that light the fuse of war," says another.
The North also started its own border broadcasts which condemn Seoul and its allies.
Current tensions in the region revolve around North Korean claims to have tested a hydrogen bomb, which they claim is capable of devastating whole the US "all at once." The South expressed its protest by broadcasting over the border propaganda messages and K-pop music which is banned in the North.
"The North spread them [the flyers] apparently to help offset the effects of our broadcasts," a Defense Ministry official said, as quoted by the Korean Herald.
The DPRK and South Korea still haven't signed a peace treaty after the 1950-53 Korean War. The border region between the two Koreas was declared a demilitarized zone, but this did not prevent Seoul from occasionally broadcasting their propaganda messages, infuriating Pyongyang.
Border broadcasts were stopped as part of a North-South deal in 2004 but briefly restarted in August 2015 after two South Korean soldiers were wounded by a landmine not far from the North-South border. The situation escalated but was defused after Pyongyang expressed its regrets in relation with the mines accident. Seoul agreed to stop the broadcasts as a token of goodwill.
You can share this story on social media: