#LavaLove: Yosemite's bizarre firefall returns to delight of social media (PHOTOS)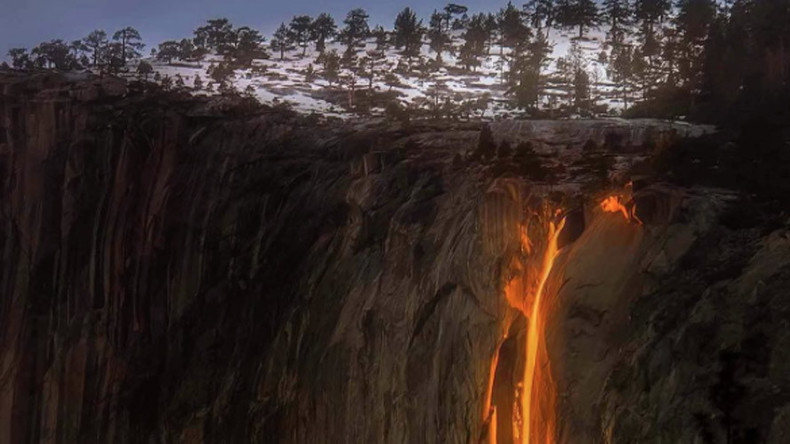 Nature is one of the top 50 hashtags on Instagram, and no wonder when the earth gifts amateur snappers remarkable views like Yosemite's golden 'firefall'.
The firefall phenomenon is one of the many wonders found at California's Sierra Nevada mountain park, occuring only at the end of February - and even then, only if conditions are right.
While it may look like lava cascading down a molten cliffside, the glowing stream is actually more likely to freeze you than turn anything in its path into a smoldering mess.
That's because the firefall is the result of a setting sun reflecting off the park's Horsetail waterfall and El Capitan rock face.
Due to a lull in rainfall coupled with overcast conditions, the magnificent illusion had been absent in recent years, report CBS Local.
But recent rainfall and melting ice means it is back, and as fiery looking as ever. (Cue an Instagram 'lava' love in!)
According to National Park Geek, conditions around the El Capitan cliff waterfall must be "warm enough to produce snowmelt". The clouds must also be situated in such a way that the sun's rays hit the surging water at the "right angle".
Here's what the rocky fountain usually looks like without the firefall 'filter':