6 dead, 1 injured as blast hits military convoy in SE Turkey (VIDEO)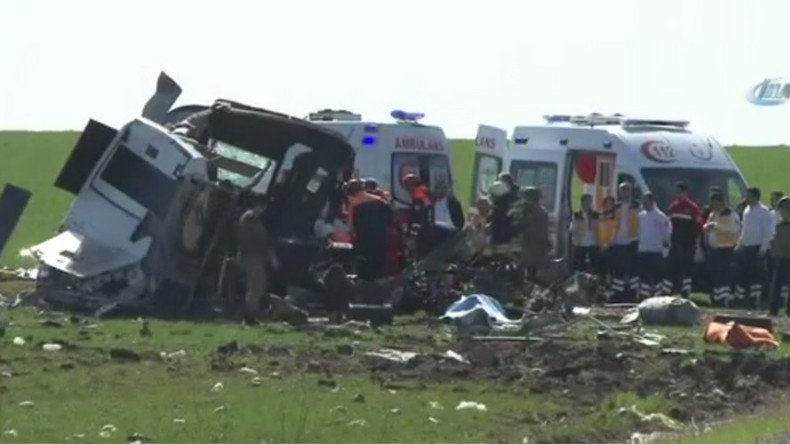 Six military personnel have been killed and one seriously wounded in an explosion that hit a military convoy in the southeast of Turkey, the armed forces said in a statement. The convoy was traveling along a highway linking Diyarbakir and Bingol.
The military also said that a handmade bomb was detonated by remote control while the military vehicle was searching for mines on the highway linking Diyarbakir to the district of Lice, Reuters reports.
Diyarbakır-Bingöl karayolunda askeri konvoyda meydana gelen patlamada şu en az 7 kişi yaşamını yitirdi, çok sayıda yaralı var

— Hayri Demir (@Hayri_Demir_) February 18, 2016
According to reports, a number of soldiers arrived at the scene of the accident and started an anti-terrorist operation.
The explosion comes a day after a car bomb attack in the Turkish capital of Ankara killed 28 people and injured a further 61 people. The scene of Wednesday's blast was close to Turkey's parliament, the Presidency of the General Staff, and Army, Air Force, Navy and Coast Guard commands.
After the collapse of peace talks aimed at ending a three-decade insurgency by the banned Kurdistan Workers Party (PKK), the Turkish government ordered a military crackdown in the Kurdish-dominated southeast. Some of the worst clashes have taken place in the town of Cizre and in Diyarbakir, which is the unofficial capital of the Turkish Kurds.
Local residents in southeastern Turkey have also been angered by Ankara imposing 24-hour curfews in many Kurdish majority towns and cities.
On February 12, Turkish security forces said they had killed 27 militants a day after Turkish Interior Minister Efkan Ala announced security operations had finished in Cizre.
The Turkish Army says more than 800 militants have been killed in their operations in the southeast. The pro-Kurdish HDP, the biggest party in the region, says 128 civilians have been killed during the curfews.
The Kurdistan Workers' Party (PKK) has been waging a guerrilla war with the Turks for decades, seeking autonomy for the Kurdish regions. An estimated 40,000 people have been killed on both sides from the violence.
The current escalation erupted last year after a two-year ceasefire, as Ankara was worried by the Kurds' growing influence in the region. Kurdish militias became some of the key forces fighting against the terrorist group Islamic State in Iraq and Syria, winning support from the US-led anti-IS coalition. Turkey, technically part of the coalition, has been using its military hardware to hit Kurdish targets, deeming the Kurdish forces a threat to its national security.
You can share this story on social media: