Patriarch Kirill strolls among penguins, prays in Orthodox church in Antarctica (VIDEO)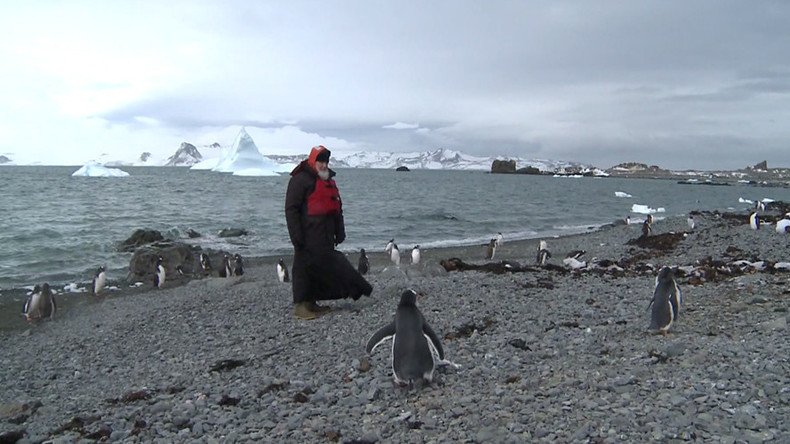 Russian Orthodox Patriarch Kirill has come to the Antarctic to visit the only permanent church in the South Pole, to talk with scientists at a Russian polar station, and of course to congregate with penguins.
Patriarch Kirill pointed out that Antarctic is a unique place where people are not involved in rivalry and military activities.
"Antarctic is the only place where there are no weapons, military activities, scientific researches aimed at creating new means of people's destruction. That is a some kind of an image of ideal mankind and a sign that people can live without borders, weapons, hostile rivalry – that people can feel as members of a single family," the patriarch told polar explorers at the Bellingshausen polar station, as cited by RIA Novosti.
The religious leader is seen walking the shore in a warm polar coat donned over his traditional robes, while scientists talk to him about the penguins and their behavior.
"Nobody waited and expected that the patriarch would come here. I have never seen him closely and when I met him the goodness spread over my soul. I think everybody experienced that," Father Veniamin, senior priest of the Holy Trinity church, told RT.
"It is sometimes difficult for people to work here – it is boring, there is no greenery. One wants to see his beloved and suddenly the man [patriarch] arrives with such a visit, says some words and one feels better," he added.
The wooden Holy Trinity church was built in the early 2000s and is the only permanent place of worship in the Antarctic.
The visit comes as part of Kirill's Latin America trip, which saw an unprecedented historic meeting with Pope Francis in Havana on February 12.
READ MORE: Russian Orthodox Patriarch, Pope hold historic meeting, sign call to end persecution of Christians
You can share this story on social media: