Burning plane, oncoming train, car trap: 5 times when Russia was awed by people's courage
Published time: 15 Feb, 2016 22:31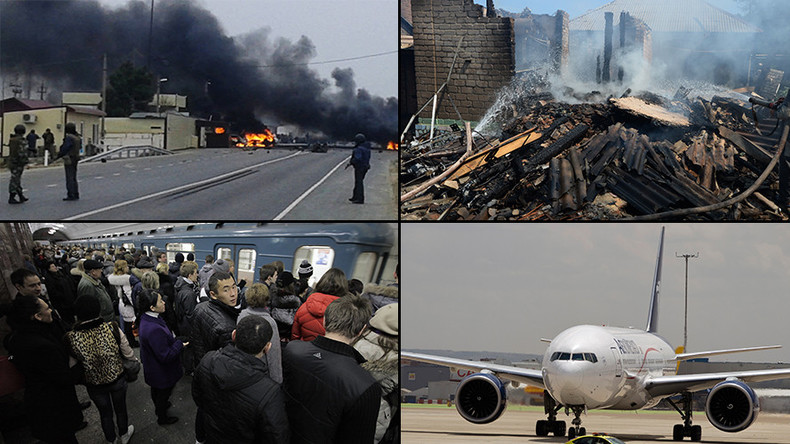 A car bomb exploded Monday at a police checkpoint in the Russian republic of Dagestan, killing three and setting a car ablaze. One girl had to act quickly to save her dad. People's courage in recent weeks has awed Russians, and RT recounts the freshest hero stories.
1. Daughter rescues dad after terror blast sets car ablaze
The 18-year old girl managed to pull her father away from a raging fire after a blast occurred at a Dagestani police checkpoint. Both of them were severely injured and subsequently hospitalized, according to Russia's LifeNews television channel. The father's arm had to be amputated and the daughter experienced serious hand and face-burns.
READ MORE: ISIS claims responsibility for southern Russian car bombing that killed 2, injured 17 (VIDEO)
2. Crew lands plane after engine catches fire, saves 375 lives
This chilling story involving a Russian plane took place thousands of miles away from its home country – six minutes after a plane departed from Punta Cana, the Dominican Republic, heading to Moscow on February 10, a blast was heard in one of the Boeing-777's engines. Exactly 355 passengers and 20 staff members were 6,000 meters in the air when the shock occurred.
Captain Konstantin Parikozha turned off the engine, whose smoke was penetrating the cabin, and turned the plane back. The emergency lasted almost half an hour.
"As the cause of the explosion was unknown, we decided not to lose time on dropping the fuel, and after a short discussion with colleagues, began landing. I thank passengers for understanding. My thanks to the flight attendants for well-coordinated actions", the captain told Russia's Channel One.
3. Two jump on Moscow Metro tracks to save woman from on-coming train
Two men had only moments to act on Thursday as a woman fainted and fell from the platform on to the tracks in Moscow Metro. One more minute and the moving train would have ripped her to shreds. In the end, the men had to pull her into a special pit between the rails and lie there themselves to avoid being hit. The train stopped right above their heads, leaving the witnesses of the event in complete awe.
READ MORE: Real heroes: Men jump on Moscow Metro tracks to save woman as train approaches (VIDEO)
4. 17-year-old rescues 6 kids from burning house
A teenager was the first one to spot the fire in a two -wooden house in Ryazan Region, central Russia, which was home to eight people, seven of them kids on February 10. The teenager woke up from noise and smell of smoke, reports local news agency 7info on its website. Realizing it was ablaze, he woke up the other children and led them to a safe place. The kids were alone in their room. Upon the arrival of the firefighters, the house was completely engulfed in flames. Thanks to the boy, no one got hurt.
5. 12-yo girl saved after she falls through ice in failed selfie attempt
A young man saved a 12-year-old girl who fell into a chilly lake in Pyatigorsk, Northern Russia on January 31. The girl was said to have been enjoying a walk with her friends when she decided to "frame the moment". However, the somewhat melted ice was not strong enough to hold the girl and cracked. Her life-savior happened to be walking on the lake's shore together with his spouse. He heard the girl scream and rushed to help.
Other witnesses soon came in to help and helped pull the girl. The man, however, says he does not think he did anything heroic, KP reported.