'Greeks will have to become migrants': 10,000 farmers protest EU-imposed reforms in Athens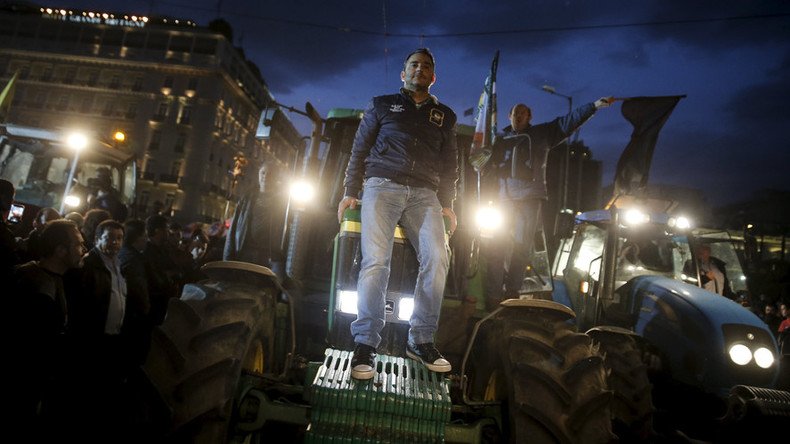 Thousands of Greek farmers set up a protest camp in central Athens to speak out against tax and pension reforms required by the EU and the International Monetary Fund (IMF). Earlier, hundreds clashed with police at the Agriculture Ministry.
READ MORE: 800 Greek farmers storm Agriculture Ministry in Athens, police fire tear gas (VIDEO)
The protesting farmers, who have come from across the country, were joined by worker unionists on Syntagma Square. Police estimated that around 10,000 demonstrators were in attendance. The mass then carried flags in a procession that was led by 20 tractors honking their horns.
Prime Minister Alexis Tsipras's formerly left-wing government plans to raise pension contributions and taxes to deal with Greece's budget deficit.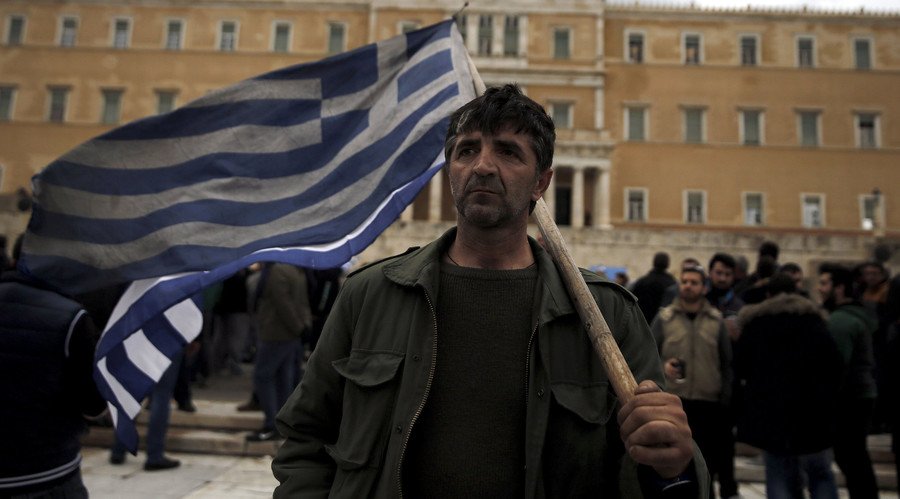 Protesters told RT's Ruptly agency that if the measures are passed, they will be force to leave Greece, as life would no longer be sustainable.
"We cannot let the government pass these catastrophic measures. If they pass, we are going to have to become migrants, either within the country or abroad," Ruptly TV cited Antonis Bitsakis, a member of the coordinating committee of the farmers of Creta, as saying. "They are a catastrophe. We are going to stay here till the end. We cannot let them pass."
Some fires were lit and a number of protesters even brought tents in anticipation of a stay lasting for up to ten days. "We are determined to stay here 10 days, we've brought tents," farmer, Stavros Haralas, told AFP.
READ MORE: Anti-democratic, unaccountable EU unfazed by Cameron's reforms – Yanis Varoufakis
The farmers are most concerned about the hike in their social security contributions, which is part of the pension reform. They are also against getting rid of benefits, including cheaper fuel.
The government prohibited the use of tractors in the rally, as they have previously been used to block dozens of roads in Greece, including the border crossings to Bulgaria and Turkey. However, the demonstrators got a permit for 20 tractors to participate in Friday's march.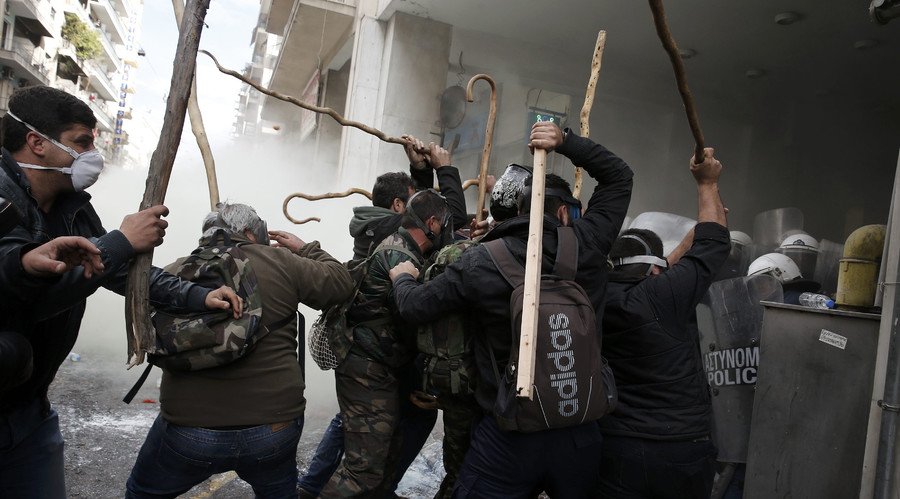 Earlier in the day, around 800 farmers pelted the Agriculture Ministry with stones, as police used tear gas to disperse the rally. They smashed windows and threw tomatoes at the officers before the police managed to push them back.

"The first floor of the building sustained damage, it is fortunate that no staff were hurt," Agriculture Minister Evangelos Apostolou said at a media briefing.
Apostolou added that there had been some "extreme" elements in the protesting crowd.
Protesters argue that they are not extremists, but that the government's decisions are pushing them towards extreme behavior. "The left government calls some of us 'far-right extremists.' We are not far-right extremists, but with their actions they push us towards the extremes," farmer G. Papageorgakopoulos told Ruptly.
Overall, ten officers were injured, with two requiring hospitalization, the junior interior minister for police, Nikos Toskas, told journalists.
READ MORE: EU gives Greece 3 months to fix borders or risk Schengen suspension
The protests were organized as part of a larger movement against austerity measures concerning pensions.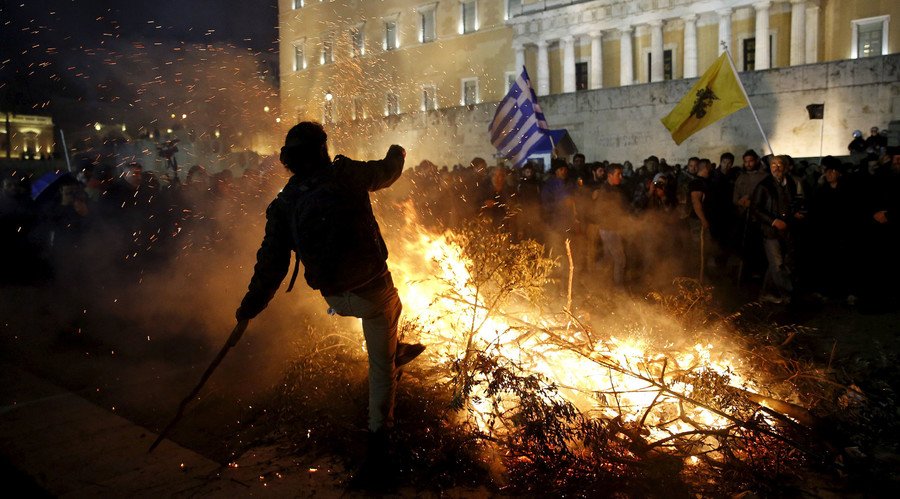 Last week, the police and protesters clashed on Syntagma Square in Athens during a general strike. Some youths threw stones and petrol bombs as officers responded with stun grenades and tear gas.
The Greek government is trying to secure a third tranche of an international bailout, but in order to do so it needs to implement further cuts and tax hikes. This round would mark the 11th cut to pensions since 2010.
READ MORE: It takes a Greek to save Europa (OP-ED)
On Wednesday, Tsipras spoke of a compromise during a televised address. "We are open to a substantial, honest dialogue with the farmers," he said. "There is significant room for improvement on their social security contributions, on the issue of when the measures take effect, and generally over the need to protect their income."
You can share this story on social media: