Still BFF? Turkey's Erdogan attacks US over support of Kurds, blames it for Syrian 'sea of blood'
In an angry tirade Turkish President Recep Tayyip Erdogan has accused Washington of causing the bloodbath in Syria by not recognizing as terrorists the Kurdish forces fighting against Islamic State in the region.
READ MORE: ISIS leaders remain in close contact with Ankara – Lavrov
Bringing a new level of pressure to bear on its NATO ally, the Turkish president questioned Washington's commitment as a fellow coalition member.
"Oh America! I told you many times, you are [either] beside us, or all of these terrorist organizations. You haven't had a good grasp of them, and that is why the region has turned into the sea of blood," Erdogan said, referring to the Syrian Kurdish Democratic Union Party (PYD) and its militia wing, the People's Protection Units (YPG), which the US does not recognize as terror groups.
"We have written proof! We tell the Americans 'it's a terror group.' But the Americans stand up and say 'no we don't see them as terror groups,'" he added. "Allies don't tell each other my enemy's enemy is my friend. You must have principles. But there are no principles here."
READ MORE: 'Me or terrorists?' Furious Erdogan tells US to choose between Turkey and Syrian Kurds
Erdogan's remarks come amid an escalated diplomatic rift between the US and Turkey over their respective goals in Syria, where both say they are fighting Islamic State (IS, also known as ISIS/ISIL, Daesh).
State Department spokesman John Kirby said on Monday that "Kurdish fighters have been some of the most successful in going after Daesh inside Syria," adding the US does not view the Kurdish militia as a terrorist organization. As to the disagreement over the group with Ankara, Kirby said "even the best of friends aren't going to agree on everything."
READ MORE: Turkey confesses fears to US of Syrian Kurds making territorial gains
Turkey summoned the US ambassador in Ankara in response to Washington's announcement.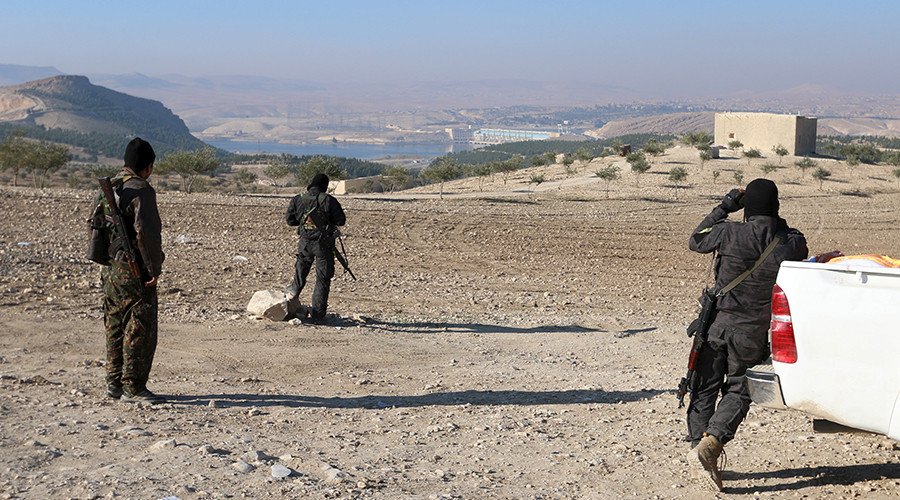 The State Department's deputy spokesman, Mark Toner, responded to Erdogan's comments on Wednesday, largely reiterating the US stance, but also trying to differentiate between Kurdish militant groups.
"We view the PKK as a terrorist organization, you know, but we make a clear delineation between the PKK and the YPG. We believe the YPG is focused thus far on combating Daesh in Syria, and we've supported them in that effort," he said at a briefing.
Responding to a question by RT's Gayane Chichakyan, Toner added "we understand their [Turkey's] concerns, the threat that they feel from the PKK and, frankly, from the YPG, we disagree on the YPG."
However, the issue of the Kurdish fighters in Syria is not the only topic causing a row between the two countries. Another major disconnect is the prospect of Turkey conducting a unilateral military intervention in Syria, to which Ankara has been hinting.
Earlier this week, Turkish PM Ahmet Davutoglu pledged to return a "historical debt" to Turkey's "Aleppo brothers" who helped defend the country in the early 20th century.
"We will return our historic debt. At one time, our brothers from Aleppo defended our cities of Sanliurfa, Gaziantep, Kahramanmaras, now we will defend the heroic Aleppo. All of Turkey stands behind its defenders," Davutoglu said at a meeting of the Party of Justice and Development parliamentary faction, which he heads.
Apparently, it is the latest powerful offensive of Syrian government forces loyal to President Bashar Assad that triggered the remarks, not the ongoing insurgency of Islamic State. Aleppo is presently occupied by Syrian rebels and Damascus has made it clear that it now aims to retake both that key city and the Syrian-Turkish border, which terrorist groups have been using to bring in fresh arms supplies and smuggle out stolen oil.
Meanwhile, the Kurds have emerged as a separate formidable force in the border region, as they simultaneously fight IS and seek more autonomy from Syria. The YPG took full control of the IS-besieged town of Kobane on the Syrian-Turkish border late last June. The victory became a powerful symbol of the Kurdish fight against IS in the area. Turkey, however, has repeatedly been blamed for targeting those Kurdish militant targets in the border region rather than IS.
The large ethnic group has been demanding greater autonomy for many years and the conflict between Kurdish insurgents and the Turkish government has, likewise, spanned decades, despite several failed ceasefires attempts for peace between the sides. Ankara has been blamed by a number of human rights groups for putting civilian lives in danger in Turkey's own mainly Kurdish southeast.
In August, Ankara launched a ground operation to crack down on Kurdish fighters linked to the Kurdistan Workers' Party. The violence ended a two-year truce with Kurdish militants who had been fighting a guerrilla war for independence.
In one of the latest developments, up to 21 academics were detained by Turkish authorities in mid-January for signing a petition urging Ankara to abandon its military crackdown on the Kurdish rebels in the southeast of the country. As many as 1,200 academics signed the petition.
You can share this story on social media: