French TV uses Russian airstrikes video while reporting on US-led coalition successes in Syria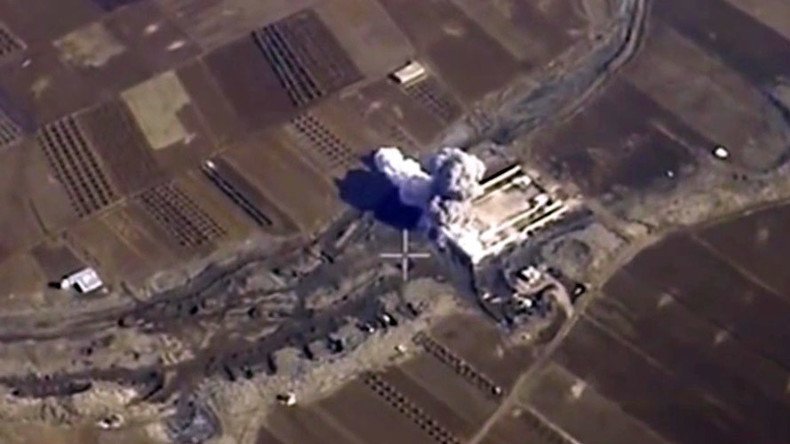 The French state television France 2 has shown a news report criticizing Moscow's anti-terror campaign in Syria, but used images of Russian airstrikes not to talk about Moscow's efforts, but to illustrate achievements of the US-led coalition instead.
According to RT in French, the report showing the videos released by Russian Defense Ministry, while the French reporter was talking about US airstrikes, was aired on February 4.
Russian airstrikes used in NATO propaganda

ENG: French state TV (France 2) News report shows superior Russian airstrike while claiming its NATO airstrikes on Daesh in Syria.News reporter also claims that the NATO (Russian) campaign aim to minimize civilian casualties. "Russian air campaign is not effective, but effective enough to be used in NATO propaganda" /Western media logicLinks to the airstrike footage used, from the Russian defense ministry YouTube channel:https://www.youtube.com/watch?v=mx7Jr8FArSohttps://www.youtube.com/watch?v=WgYbiCGYy2c Note to Russian news agencies: Clips used in the montage will be provided upon request, no copyrights claimed on this montage. Free to use#####################SWE: Statlig fransk TV (France 2)Nyhetsrapporten visar överlägsna ryska flyganfall medan rapporten påstår att det är NATOs flyganfall mot Daesh i Syrien.Nyhetsreporten påstår även att NATOs (Rysslands) flygkampanj strävar efter att minimera civila dödsoffer."Den ryska flygkampanjen är inte effektiv, men effektiv nog att användas för NATO-propaganda" /Västerländska medians logik#RT #InTheNow #Putin #Russia #France #Airstrike #Propaganda #Daesh #Syria

Posted by Allt om Irak & kriget mot ISIS - Iraq news & the war against ISIS on Sunday, February 7, 2016
The French report on anti-terrorist operations in Syria and its Aleppo province first featured a short story strongly criticizing airstrikes carried out by the Russian Air Force in the region. The journalist then proceeded to tell the audience about the objectives of the "minimum civilian casualties" western operation, led by the United States.

READ MORE: Information warfare? Russia accused of killing civilians in Syria
"The planes of the US coalition have a hard time finding targets to destroy," the reporter was saying, while images of the Russian airstrikes were broadcast.
Having just praised the accuracy of US airstrikes, the reporter pointed to the video on screen, which showed the footage of Moscow's anti-terror op, released by the Russian Ministry of Defense.

READ MORE: 'Fighting common evil': Putin, Hollande agree to share intelligence on terrorist targets in Syria
Commenting how "targets are very difficult to find" and telling the audience how the US and its allies have been destroying terrorist training camps, command centers, ammunition depots and oil facilities, the French channel kept showing Russian footage of its efforts in Syria.
READ MORE: Bombing plagiarism? Russia says Western media use its Syria footage in coverage of US-led coalition
This is not the first time videos from Russia's anti-terror campaign in the Middle East have been used by western media to depict airstrikes by the US-led coalition. The Defense Ministry has repeatedly pointed out such cases, saying they were partly due to the coalition's reluctance to share more information about its actions.
Unlike the Russian anti-terror operation command in Syria, the US-led coalition has not organized coverage for journalists in the region, ministry spokesman has said, giving the example of Euronews TV channel having used Russian Air Force footage while airing a comment by a representative of US Central Command on the coalition successes.
Earlier, American public television used Russian objective control videos – which showed Sukhoi bombers targeting Islamic State oil facilities – with a voiceover praising US attacks, the Defense Ministry said.
You can share this story on social media: