Bombing plagiarism? Russia says Western media use its Syria footage in coverage of US-led coalition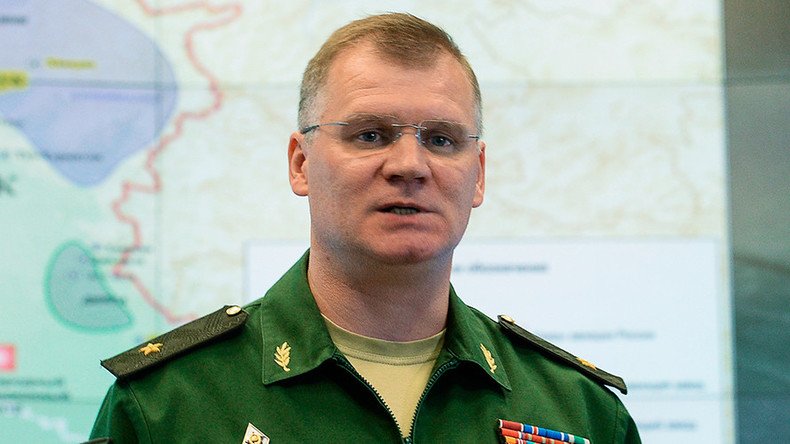 Western media often use videos from Russia's anti-terror campaign in Syria to depict airstrikes by the US-led coalition. This is due to the coalition's reluctance to share more information about its operations, a Russian Defense Ministry spokesman said.
Unlike the Russian anti-terror operation command in Syria, the US-led coalition has not organized coverage for journalists in the region. "I have to stress that no-one has ever heard of the reporters' press-tours to the anti-ISIS coalition's bases," Major General Igor Konashenkov told journalists in Latakia, Syria on Wednesday.
"As a result even the most reliable international TV channels – I am sure unintentionally – are often using the footage of Russian airstrikes to illustrate the airstrikes by the anti-ISIS coalition," he said.
For example, Konashenkov said, the Euronews TV channel recently used Russian Air Force footage while airing a comment by a representative of US Central Command, who was speaking about the successes of the anti-ISIS coalition.
Last month, PBS NewsHour used two Russian objective control videos which showed Sukhoi bombers targeting an IS oil storage facility, as well as a large oil truck depot, with a voiceover saying: "For the first time, the US is attacking oil delivery trucks."
Konashenkov suggested that the coalition release "at least half the volume of the footage that we released in the course of three months of operation in Syria" instead of making accusations about Russian airstrikes being indiscriminate.
"The more precise our airstrikes against terrorists become, the louder Western media get in their accusations and citations of anonymous sources that claim that attacks by Russian warplanes are indiscriminate," Konashenkov added.
"Today we are the only army in the world that has showed how we have hit terrorist targets with specified precision weapons from Russian planes and ships. At the same time, we know, at best, only a few words from [US] officials about the results of the [US-led] anti-ISIS coalition's combat aviation operations."
Russia launched its military operation in Syria on September 30, at the request of the Syrian government.
You can share this story on social media: