Universal karma? Indian man believed first to be killed by meteorite (GRAPHIC VIDEO)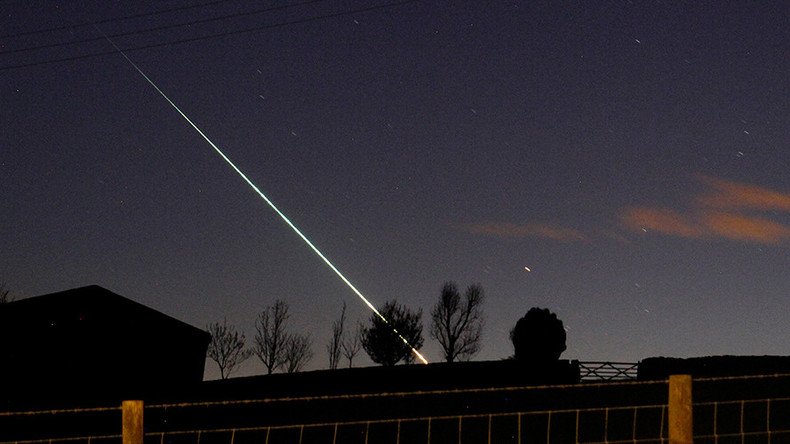 An Indian may be the first known human being to have been killed by a meteorite hit. Authorities said that a small celestial body struck a southern college campus, killing a bus driver and injuring three others in an incident initially reported as a bomb.
CAUTION: GRAPHIC VIDEO
The "mysterious explosion" that took place on Saturday in Vellore, a city in the south Indian state of Tamil, has been confirmed as a meteorite impact by Chief Minister J Jayalalithaa.
READ MORE: Close call? Asteroid could pass Earth by 11k miles, 95% closer than the moon
"A mishap occurred yesterday when a meteorite fell in the campus of a private engineering college in Vellore district's K Pantharappalli village," Jayalalithaa said.
A bus driver who was walking in the area was struck by the meteorite and killed. The victim, named only as Kamaraj was reportedly thrown 10 feet into the air by the impact, and declared dead once he was transferred to hospital.
The impact also injured three people and nearby buses and buildings. Witnesses said they saw a mysterious object fall from the sky.
While the government initially suspected that the driver had been killed in a bomb blast, forensic scientists could not find traces of explosives. Instead, authorities said that they have recovered a piece of a meteorite, in a two foot deep crater near a water tank where the incident happened.
In addition to offering the best medical treatment the government promised to pay the families of the victim and those who were injured compensations for the unfortunate "mishap."
"I have ordered the Vellore district administration and hospital officials to provide them best treatment," Jayalalithaa said.
While meteorites occasionally hit vehicles and buildings with people inside, there have been no casualties reported from direct hits thus far. The closest call know to date was the Chelyabinsk incident in 2013, where a superbolide exploded in the Russian city's skies, damaging hundreds of buildings and injuring more than 1,000 people.
Saturday's death may become the first registered death from meteorite, as according to calculations by astronomer Alan Harris the person's odds of being killed by a celestial body impact during lifetime are about 1 in 700,000.
You can share this story on social media: