Russian meteorite crash: LIVE UPDATES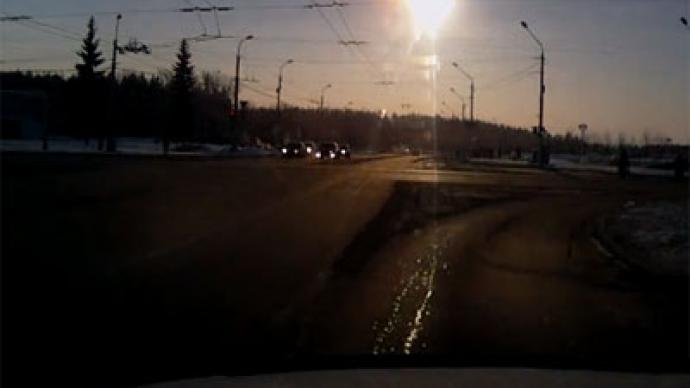 An aerial meteorite explosion has wreaked havoc in Russia's Urals. The blast caused widespread panic, damaged buildings, blew out thousands of windows and lead hundreds to seek medical attention for minor injuries.
­The incident was caused by a bolide, scientists said. Multiple dashboard videos appeared online, showing huge fireballs flying over buildings and exploding with a strong blast as the meteriote broke into pieces mid-air. A local zinc factory was the worst-hit, with some of its walls collapsed.
Meteorite hits Russian Urals: Fireball explosion wreaks havoc, over 900 injured (PHOTOS, VIDEO)
18:40 GMT: The search for the meteorite parts at Chebarkul Lake and at other two locations has officially been stopped. The huge ice hole found at the lake on Friday "has formed because of a different reason," the Vice-Governor of Chelyabinsk region Igor Murog told Interfax-Ural.
13:32 GMT: Officials will take out bank loans to pay for repairs to meteorite damage, Chelyabinsk regional Governor Mikhail Yurevich said. He also asked for at least 500 million rubles in repairs to be subsidized by the federal government.
­12:30 GMT: Chelyabinsk municipal medical services have released official figures on the number of injured: 1158 people applied for medical assistance, including 289 children. Fifty-two people were hospitalized, including 13 children. Several people with light injuries have been already released from hospitals.
­12:14 GMT: Repair work in Chelyabinsk will be completed in three days, Russian Emergency Minister Vladimir Puchkov said, adding that basic utilities such as power, transport and telephone lines are functioning normally. The Minister ordered that 122 buildings be inspected for damage. Some 24,000 people and 3,500 machines are engaged in the city recovery effort.
­12:10 GMT: Chelyabinsk Governor Mikhail Yurevich described February 15 as the city's second birthday: "If the meteor, which exploded above us, was just a little bigger, it's hard to imagine what could have happened to our towns and villages. The huge sum of 1 billion rubles needed to repair broken windows and damaged walls pales beside losses we could have had. The most important thing is that nobody died!"
­07:58 GMT: No meteorite fragments were found at the bottom of Chebarkul Lake, says the Emergencies Ministry. A lack of underwater visibility, as well as a thick – up to 1.5 meters – layer of ooze were cited as the main reasons for failure. Six divers spent three hours searching for solid objects in the mud but finally gave up. Water samples taken from the lake have also shown nothing unusual.
­06:46 GMT: About 200,000 square meters of window glass in Chelyabinsk were shattered by the meteorite explosion, Russia's Emergency Ministry reports. The latest data reveals that 3,724 apartments, 671 educational institutions, 69 cultural facilities, 34 hospitals and clinics, 11 social facilities and 5 sport venues in the Chelyabinsk region were damaged by the impact wave following the explosion. The broken windows at all medical institutions and about a third of the other buildings have already been repaired. By Monday, all schools and kindergartens are expected to resume normal operations.
­05:59 GMT: Infrasound stations tracking nuclear tests worldwide recorded the meteorite explosion above the Chelyabinsk region. Eleven stations of the 45 belonging to the Comprehensive Nuclear-Test-Ban Treaty Organization determined that the incident in Russia took place at 03:22 GMT on Friday. The stations are located in 35 countries around the world.
05:26 GMT: Russia's Emergency Ministry has finalized the number of people injured by the meteorite explosion: 1,145 have sought medical attention, 50 of whom remain in hospital. No deaths from the incident have been officially registered, the Ministry reports.
­04:55 GMT: The meteorite explosion above the Chelyabinsk region has damaged 100,000 households, with total damages exceeding 1 billion rubles (about $33 million), the regional governor announced. "That's not much for such an accident," Governor Mikhail Yurevich said, adding that up to 30 percent of the smashed windows have already been replaced, and promising to repair the rest within a week.
04:10 GMT: Six divers have started searching for meteorite fragments on the bottom of Chebarkul Lake near Chelyabinsk. The search will continue for about four hours; nothing has been found so far.
­03:19 GMT: Medics in the Chelyabinsk region report that 51 persons remain in hospital as a result of the meteorite explosion, 13 of whom are children. One woman with a severe spinal fracture has been taken to Moscow by a 'flying hospital' aircraft, sent to Chelyabinsk by the Emergency Ministry. Most of the injured will be discharged from hospital in a matter of days, but still there are people with serious wounds – some fingers and toes were reportedly amputated, while others suffer from severe post-traumatic stress disorder.
­
Friday, February 15
23:14 GMT: NASA estimates that the asteroid blast over Chelyabinsk occurred at about 14-20 kilometers above the Earth's surface, and that the energy released was equivalent to a 300-kiloton explosion, according to Bill Cooke, head of the Meteoroid Environments Office at NASA's Marshall Space Flight Center.
21:39 GMT: Meteorite fragments have damaged 2,962 buildings including 34 healthcare facilities, 11 social security institutions and 361 school and pre-school educational institutions, Russian Emergencies Ministry said.
20:49 GMT: A 52-year-old woman who suffered spinal fracture after meteorite fragments fell to earth in the Chelyabinsk region will be transported to Moscow. The Russian Emergencies Ministry's plane will pick her up on Saturday, February 16.
­20:03 GMT: The damage from the meteor is estimated at more than 400 million rubles (more than $13 million), said the Minister of Emergency Situations of Russia Vladimir Puchkov. Earlier the damage was assessed at 1 billion rubles (more than $33 million).
­19:38 GMT: People in medical facilities mainly complain of cut wounds, according to the Minister of Health of the Chelyabinsk region Marina Moskvicheva. 43 people were hospitalized, including 13 children. Two adults are in a serious condition, according to the ministry's press service. Most of the victims live in Chelyabinsk – 655 people, including 159 children. 130 victims , 30 of which are children, live in the town of Kopeisk. As a result of the meteor shower 93 hospitals and 154 clinics were damaged, ITAR-TASS reports.
19:23 GMT: Video footage of a 6 meter hole from meteorite debris at lake Chebarkul in Chelyabinsk region is now available.
­19:18 GMT: Ten districts of Chelyabinsk region experienced devastation from the blast wave caused by the meteorite, reported the regional Ministry of Internal Affairs. The explosion damaged buildings in Chelyabinsk, Emanzhelinsk, Etkul, Kopeisk, Korkino, Chebarkul, Yuzhnouralsk, Zlatoust, Troitsk, Uvelsky and Krasnoarmeisky areas, as well as the village of Rose. The ministry added that there may be more areas affected, ITAR-TASS reports.
­18:48 GMT: This is the second time a meteor has fallen in the Chelyabinsk region of Russia. In June 1949 a meteor called 'Kunashak' landed in the area. 20 pieces, with the total weight of 200 kg, were found. One of the segments of the meteor was said by locals to have fallen in Chebarkul lake, the same body of water hit by a piece of Friday's fireball. However, 'Kunashak', or its debris, has never been found in the lake.
­17:50 GMT: The authorities of the Chelyabinsk region assessed the damage from the meteorite at 1 billion rubles, said Governor Mikhail Yurevich .
­17:49 GMT: The Emergency Ministry said that at least 300 homes will have to be glazed. 'As a result of an emergency situation in a number of towns and cities of Chelyabinsk region there are isolated cases of damage to the upper floors windows in 297 buildings, including 6 hospitals and 16 schools and pre-schools' the ministry's spokesman said. In addition, the work of three gas distribution stations was interrupted disrupting the gas supply to over 2000 people. Presently the gas supply has been restored in full, according to the ministry.
17:34 GMT: 1200 people were injured in Chelyabinsk region as a result of the meteorite fall, Russian Interior Ministry spokesman said.
­16:35 GMT: The Emergency Ministry has since denied sending out SMS warnings about the meteor shower in the Chelyabinsk region. The ministry added that informing residents started after the incident and the spokesperson who spread the false information on the incident was fired.
16:19 GMT: The fireball that hit Russia's Urals is the largest rock to strike the planet since 1908, Nature Magazine says. The blast was even more powerful than North Korea's recent nuclear test, added the UK journal. Unlike the Russian Academy of Science, it estimated that the mass of the fireball was around 40 tons before it entered the atmosphere. Russian scientists put the mass at 10 tons.
Russian meteor largest in a century-released as much energy as a nuke bit.ly/XSM3RT

— Nature News&Comment (@NatureNews) February 15, 2013
­15:55 GMT: Two hockey matches in the city of Chelyabinsk were cancelled after a wall at the city's ice arena was damaged by a piece of meteorite.
­15:42 GMT: NASA said that the Chelyabinsk fireball had nothing to do with the approaching 2012 DA14 asteroid, as some scientists had previously suggested.
"The trajectory of the Russian meteorite was significantly different than the trajectory of the asteroid 2012 DA14, making it a completely unrelated object," the space agency said on its website. "In videos of the meteor, it is seen to pass from left to right in front of the rising sun, which means it was traveling from north to south. Asteroid DA14's trajectory is in the opposite direction, from south to north."
Scientists say Russian meteorite unrelated to asteroid 2012 DA14: on very different paths. DA14 misses us today. go.nasa.gov/Y5Zsoe

— NASA (@NASA) February 15, 2013
15:28 GMT: The Russian Academy of Science now estimates the meteorite had a mass of around 10 tons before it entered Earth's atmosphere, and began disintegrating at an altitude of between 30 and 50 kilometers.
15:01 GMT: Around 1,000 people have sustained injuries in Chelyabinsk due to the meteorite strike, says the Emergencies Ministry. 159 of them are children.
13:20 GMT: The number of people injured in the meteorite blast has risen to 950, Governor of Chelyabinsk Region Mikhail Yurevitch said.
13:10 GMT: Roscosmos said they did not track the meteorite that fell near Chelyabinsk. "Our ground facilities and, as I understand, those abroad too did not the monitor this celestial body," the agency spokesman said.
13:02 GMT: Nearly 3,000 buildings in Chelyabinsk were damaged to varying extents by the meteor shower, including 34 medical facilities and 361 schools and kindergartens, the city administration's website reported. The total amount of window glass shattered amounts to 100,000 square meters, the site said, citing city administration head Sergey Davydov.
12:52 GMT: The meteorite's combustion products won't stay in the atmosphere for long, and will soon come down with the rain, Russian scientists said. The 50-ton meteorite is believed to have caused no radioactive or chemical pollution.
12:49 GMT: There's practically "no chance" such incident could happen in the region again, the Russian Academy of Sciences said. Roshydromet monitoring systems have detected flybys of several meteorites overnight and in the morning.
­12:38 GMT: First images of the crater from the meteorite fall appear online.
­12:24 GMT: The military had nothing to do with the aerial meteorite explosion, the Urals Emergency Ministry said: "Russia's defense ministry took no action connected to the incident. No aircrafts has been registered in the air at the given period of time." Earlier, there were unconfirmed reports that the military had shot down the falling meteorite, shattering it into pieces.
­12:21 GMT: Vladimir Puchkov, the head of the Russian Emergency Ministry, is flying to Chelyabinsk to hold an emergency meeting with regional governor Mikhail Yurevich concerning the meteor shower incident, which injured over 725 people.
­12:05 GMT: Six cities and four small towns saw damage from the air blast produced by the meteorite, mostly shattered windows, Itar-Tass reported, citing police officials.
­12:01 GMT: The site where the meteorite is believed to have fallen has been closed off by military units wearing special protective suits.
­12:00 GMT: Three municipalities of the Chelyabinsk region have declared a state of emergency. "8 out of 43 municipalities have considerably suffered from the fall of space debris, 3 are in state of emergency," Emergency Ministry spokesperson Igor Murog said.
11:42 GMT: A phone hotline has been launched for Chelyabinsk residents seeking psychological care.
­11:40 GMT: Two people injured in the meteorite incident are in intensive care, RIA Novosti reported, citing Chelyabinsk officials.
­11:36 GMT: Russian President Vladimir Putin ordered the country's Emergency Ministry to evaluate the damage caused by the meteorite incident, and to provide victims with all necessary aid. He said that the "astronomic aspect of the incident" is of particular interest, because analysis of the Chelyabinsk meteorite fall could help prevent future such incidents and alert residents in advance.
­11:33 GMT: At least 297 apartment buildings were damaged from the meteorite fall in the Chelyabinsk region, an Emergency Ministry spokesperson told Russia 24 TV.
11:30 GMT: Parts of the Chelyabinsk meteorite are 'on sale' on some Russian websites. "Will sell meteorite pieces cheap, photos later," an announcement read.
Челябинский #метеорит появился в продаже на досках объявлений в Интернете (ФОТО) twitter.com/ludmilamie/sta…russian.rt.com/Natural_Disast…

— RT_russian (@RT_russian) February 15, 2013
­11:19 GMT: The Russian military has explored a meteorite crater that is reportedly 6 meters in diameter; normal radiation levels were detected at the site.
­11:12 GMT: Nearly 725 people have requested medical assistance in regions hit by the meteor shower.
­11:10 GMT: The meteorite blast in the Chelyabinsk region may be connected to the 2012DA14 asteroid, which will pass close to Earth tonight, Tatyana Borisevich from Pulkovo Observatory told Itar-Tass.
­11:00 GMT: Gas has been shut off in hundreds of Chelyabinsk homes after a security system shut it down due to the explosion.
­10:55 GMT: The meteorite explosion sent animals in the Chelyabinsk zoo into a panic. Wolves and horses were reportedly the most agitated, but have now been calmed.
­10:46 GMT: The meteorite has stirred up the Twitter community, becoming one of the most-discussed topics and prompting the creation of several parody accounts. More than 10 different Twitter accounts have been already registered for the meteorite that hit the Russian Urals. "So where can I go here on Friday night? Except for the factory?" one of the accounts said.
10:48 GMT: Russian military discovers 6-meter crater from Urals meteorite.
­10:44 GMT: The meteorite weighed 10 tons before it entered Earth's atmosphere, the Russian Academy of Science said.
­10:43 GMT: Before falling to earth, the meteorite exploded nine times, starting at an altitude of 55 kilometers, Lifenews reported quoting a source in Emergencies Ministry.
­10:33 GMT: The number of those hospitalized has risen to 112, with nearly 550 people seeking treatment for minor injuries.
ESA experts at #ESOC confirm *no* link between #meteor incidents in #Russia & #Asteroid#2012DA14 Earth flyby tonite #SSA#NEO

— ESA Operations (@esaoperations) February 15, 2013
­10:19 GMT: Three areas where meteorite debris fell have been discovered by emergency teams, police reported.
­10:18 GMT: 84 children were among the hundreds injured by the Urals meteor shower.
­10:04 GMT: The Russian Emergency Ministry did not confirm earlier reports that the meteorite fell close to a lake near the town of Chebarkul. "It's too early for any conclusions about any debris found," spokesperson Vladimir Stepanov told Russia 24 TV.
­9:56 GMT: Demand has spiked in the Chelyabinsk region for plastic windows to be urgently installed, after a meteor shower shattered the windows of dozens of buildings.
­9:36 GMT: There is a high chance that another meteorite could enter the Earth's atmosphere in the next few hours, Sergey Smirnov from Pulkovo Observatory told Vesti news channel.
­9:31 GMT: All universities, schools and kindergartens in Chelyabinsk have been closed for two days.
­9:14 GMT: Sixteen people were hospitalized after meteorite debris hit the Russian Urals.
­9:07 GMT: "The object could be about a meter in diameter and weigh a few tons," Valeriy Shuvalov of the Institute of Geosphere Dynamics told RIA-Novosti. "As it entered the atmosphere, it broke into a cloud of pieces that flew on, creating a blast wave and emitting light. That's where the flashes came from, as well as broken windows. Most of the object's material evaporated, the remaining pieces slowed down and fell. It was most likely of iron nature as it penetrated so far through the atmosphere. However, we still don't have the exact data on the debris."
­8:56 GMT: The Chelyabinsk regional governor reported that an emergency team discovered that a meteorite fell into a lake near the town of Chebarkul.
8:49 GMT: The number of people requesting medical assistance has risen to 500.
­8:30 GMT: Residents of Chelyabinsk buy out plastic wrap to screen the windows blown off by the meteor shower blast wave, as temperatures are expected to fall to -14°C at night.
­8:20 GMT: More than 400 people have requested medical attention for minor injuries after a meteor shower hit the Russian Urals region. The number of injured may change, police said.
­8:10 GMT: Oleg Malkov, an aerospace scientist at Moscow State University, told Komsomolskaya Pravda newspaper that the meteorite went undetected by space scanners, likely because it was coming from the direction of the Sun. "We can only register stones coming from the direction of the night sky," he explained. Malkov confirmed that the meteor shower in the Urals was not connected to the 2012DA14 asteroid that will approach Earth in a few hours.
­8:03 GMT:Up to 250 injured, 3 in critical condition after meteorite hits
­7:46 GMT: Ekaterinburg's observatory has officially deemed the incident a fireball meteor shower. No evacuations were called for, and radiation levels were determined to be normal.
­7:40 GMT: Vice Premier Dmitry Rogozin wrote on Twitter that he will offer suggestions to Prime Minister Dmitry Medvedev on how to prevent or mitigate meteorite damage in future.
­7:30 GMT: ­The number of people seeking medical attention has risen to 150.
You can share this story on social media: