Interview: 'Russian Hammer' Artem Lobov talks UFC & Conor McGregor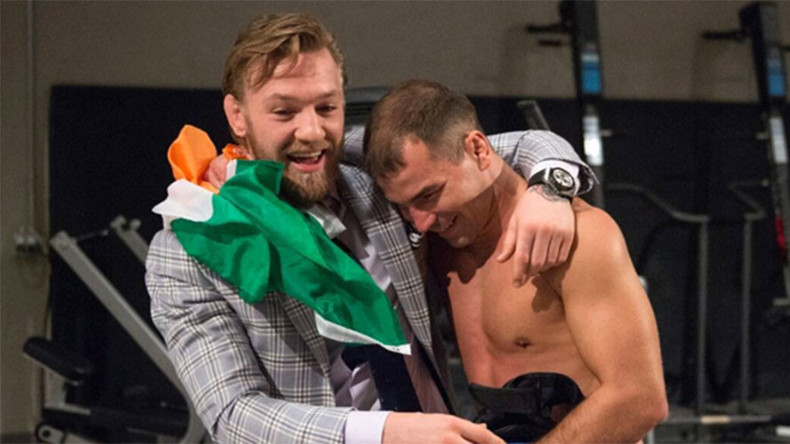 Artem Lobov, aka "The Russian Hammer", spent his first 14 years in Russia's fifth largest city, Nizhny Novgorod, and the last 13 in Ireland's capital city Dublin. This Saturday, the mixed-martial arts fighter is on the card at the Las Vegas Ultimate Fighting Championship event dubbed UFC 196.
Lobov sat down with RT to talk growing up in Russia, finding a new life in Ireland, and becoming the main sparring partner of Conor McGregor, the UFC featherweight champion.
Growing up in post-USSR Russia was challenging for Lobov after he contracted tuberculosis (TB) at the age of two.
"When I was born, I never got the TB vaccine, the doctor forgot so I was high risk of getting TB," Lobov explains. "When I was two years old, my head got stuck in the railing, I was choking to death."
Luckily for the young Lobov, a neighbor spotted him and managed to free Artem's head. This wasn't where it ended though.
"The guy had TB," Artem adds. "He ended up saving my life but also infecting me."
After a year of treatment, Lobov made a full recovery and had his childhood freedom returned.
Now seen as one of the rising stars of the UFC, Lobov never imagined he would end up as a professional fighter, although he did always have an interest in martial arts, much to his mother's chagrin.
Like many worrying moms, Mrs. Lobov was not so keen on her only son being involved in boxing, instead sending him to ballroom dancing.
"I had no choice, but to say yes," Lobov says, admitting he stuck with it for five years. "I can't say I hated it, I was pretty good at it," he admits, acknowledging the crossover benefits for 'dancing' in the ring.
"I used to be surrounded by beautiful women, now I'm wrestling sweaty men. I don't know where it all went wrong," Lobov jokes.
At the age of 14, Lobov's family moved to Argentina for two years before then moving to Ireland, which was in the midst of an economic boom.
Like many teenagers, he got a part-time job and focused on that. Martial arts wasn't on his horizon just yet, nor was ballroom dancing.
Five years later however, 21-year-old Lobov, while completing his bachelor's degree in Business Studies and Spanish at Dublin City University, got his first taste of martial arts after spotting a self defense poster around campus.
Although starting at a late stage, Lobov didn't let this hamper his new found passion for martial arts.
"I loved it and I started training, I loved it even more," he told RT. "I had my first fight, really loved it then and I just wanted to do it as often as I possibly could."
Lobov completed university with a Master's degree in Finance and secured a banking job along the way.
The cut-throat world of high finance wasn't where Lobov wanted to be though and, in September 2014, he decided to focus on a more wholesome activity - his UFC career.
Of his close friendship with McGregor, Lobov says it's a "relationship built on blood, sweat and broken bones." Quite literally, too.
Over the years training at Straight Blast Gym (SBG) in Dublin, Conor McGregor's training ground, Lobov was brave enough to volunteer to spar with "The Notorious", something many would not even consider.
"I got a few beatings, but I always kept coming back," Lobov says of his numerous encounters with McGregor. "I would never, ever quit… Back then, the sparrings we had were crazy - small gloves, no headgear - not many could withstand that, but I was one of the few who could."
READ MORE: McGregor angry over UFC 196 poster; 'Rousey has no chance in Holm rematch'

The advantages have been many with Lobov and McGregor now close friends and Lobov seen as McGregor's chief sparring partner.
In 2015, McGregor led the European team for The Ultimate Fighter 22 TV series (TUF), with Lobov as one of the eight "Team McGregor" members.
Although Lobov was beaten by Mehdi Baghdad in the preliminary fights for the series, producers offered him and Team USA's James Jenkins a second chance to prove themselves by squaring off against each other with the winner securing a place in the TUF house.
Lobov won the fight and became a fans' favorite on the series. He also managed to reach the finale of the program, where he ultimately lost out to Ryan Hall of Team USA by unanimous decision.
Post TUF, Lobov's next career moment will be this Saturday in Las Vegas where faces Alex White for an undercard fight at UFC 196.
Lobov remains confident about the encounter, predicting the fight won't go beyond the second round.
You can share this story on social media: