Syrian army makes gains in Daraa with local militia support (VIDEO)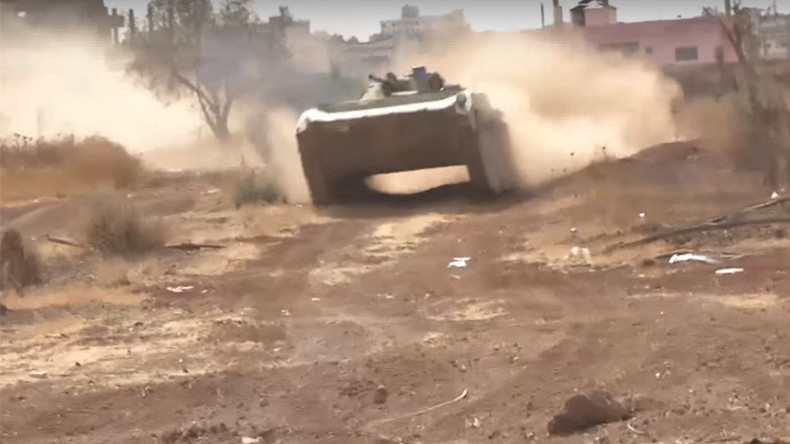 The Syrian army and the people's militia are continuing to solidify their positions around Daraa in southwestern Syria, launching an offensive against Al-Nusra fighters and their affiliates from multiple directions to secure the strategic Damascus-Quneitra-Daraa triangle.
Daraa borders Jordan, as well as the region within which Syrian Golan Heights falls, Al-Quneitra, and is the major land route south to Damascus. Securing the city and the areas around it has strategic importance and according to an RT Arabic crew on the ground, the army is now focusing on a continued offensive south of Daraa as well as northwest in the direction of Al-Quneitra.
The army and the volunteer battalions are engaging the jihadists near Athman, located four kilometers north of Daraa. In the southern part of the Athman village, according to an RT correspondent on the ground, Abu Taleb Al-Bukhea, the government forces have been able to secure at least 30 buildings, penetrating Al-Nusra fighters' first and second lines of defense.
"We began shelling the enemy's front edge. Here is his cutting edge," one of the commanders told RT pointing to a battlefield map. "Our troops are carrying out precise and heavy fire against terrorist strong points."
A "huge number of terrorists" were killed in ground operation in Athman, according to SANA, in addition to three jihadist command centers that were annihilated by the Syrian air force. The aim of the operation, according to the army forces on the ground, is to secure the northern part of the city of Daraa from a potential jihadist offensive and to shift the battle to the west towards Al Yadudah village and cut off the terrorist supply route.
READ MORE: Jihadists recruit & train Syrian teens to carry out terror acts, opposition tells Russian military
The military also noted the importance of strong resistance from local populations who have been deterring jihadist fighters from capturing their villages and turning them into forward bases for further attacks. According to the RT correspondent, volunteer fighters in the village of Khirbet Ghazaleh did just that by refusing to surrender their township to Al-Nusra gang.
The Syrian army is already within reaching distance of the old customs building in the south of Deraa on the Jordanian border, the RT correspondent noted, and Damascus remains confident that Al-Nusra will soon be driven out of the area.
You can share this story on social media: