Turkish civil servants asked to report 'insults' against president & top officials to police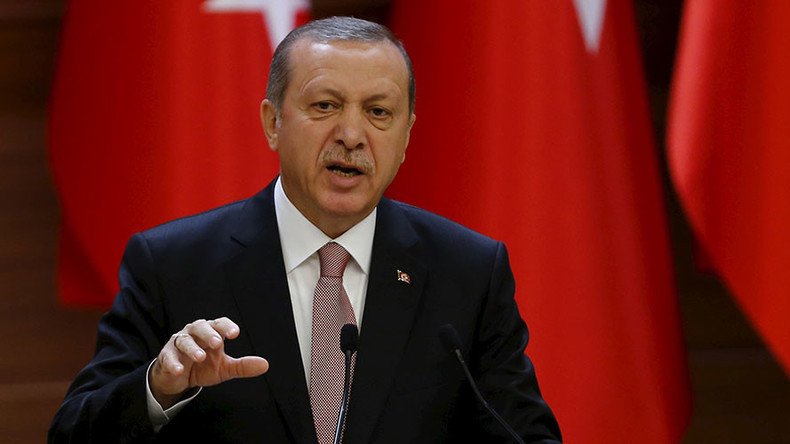 The governor's office in Isparta, southwestern Turkey, has reportedly sent a request to all state institutions in the province instructing staff to report cases of "insulting" President Recep Tayyip Erdoğan and other top officials straight to the police.
Insulting the president is considered a crime in Turkey and the punishment can be up to four years in jail.
"According to Articles 299 and 125 of the Turkish Penal Code [TCK], an action must be taken for the posts [on social media] including insults against our president and other senior government officials, which have increased lately in direct proportion to the increase in terror activities in our country," the notification, signed by Isparta Deputy Governor Fevzi Güneş on behalf of Isparta Governor Vahdettin Özkan, stated, Today's Zaman reported.
The government began its crackdown on Kurdish fighters from the Kurdistan Workers' Party (PKK), outlawed by Ankara, last July. Turkey's authorities maintain those killed during the security operation in the southeast were all PKK members. According to Turkish human rights groups, however, more than 160 civilians were killed during the government offensive.
President Erdogan has publicly vowed to continue the operation until the area is cleansed of Kurdish militants. Kurds have long been campaigning for the right to self-determination and greater autonomy in Turkey, where they are the largest ethnic minority.
In mid-Januray, Turkey arrested over a dozen academics for signing a declaration denouncing Ankara's military operations against Kurdish militants. The move came after over 1,200 scholars were under investigation for criticizing the Turkish State. They were accused of allegedly participating in "terrorist propaganda" after signing a declaration condemning military operations against Kurdish rebels in the southeast. Erdogan described the group of academics as "poor excuses for intellectuals." He insisted human rights violations in the southeast of the country were being carried out byireferring to the Kurdish rebels, not by the state.
The day after Erdogan urged prosecutors to investigate academics, who signed the declaration criticizing military action in the country's mainly Kurdish southeast, Kemal Kilicdaroglu, leader of the main opposition Republican People's Party's (CHP), called the Turkish president "a dictator."
In January, a local Turkish court dismissed Recep Tayyip Erdogan's appeal against Kilicdaroglu. The Turkish president was seeking damages after the opposition party leader called him a "thief." Erdogan's lawyers demanded 200,000 Turkish lire ($66,000) in damages, saying this was an "attack on his personal rights."
On Monday, an Ankara court sentenced another Turkish politician Hüseyin Aygün, a former deputy from the CHP party, to 14 months in prison for "publicly insulting" Prime Minister Ahmet Davutoğlu. Aygün rejected all accusations, Haber Turk reported.
The Republican People's Party has repeatedly accused the government of using counter-terror laws to persecute journalists, saying 156 were arrested in 2015, with 484 legal actions launched against journalists and 774 fired during the year.
Aygün was sentenced to nine months in jail for "inciting people to enmity or hatred or denigration," Müslim Sarı, another former CHP deputy, wrote on his Twitter.
"This ruling is clear evidence that there [is] no freedom of thought and expression in Turkey and judicial independence has ended too," Sarı said in another tweet.
Hüseyin Aygün Başbakana hakaretten 1 yıl 2 ay, halkı kin ve düşmanlığa tahrikten 9 ay hapse mahkum edildi. @HuseyinAygun62 adaletyokhükmünde

— Müslim Sarı (@muslimsarichp) 1 февраля 2016
Late last month, a Turkish court sentenced a female teacher to almost a year in prison for making a rude gesture at Erdogan (when he was prime minister) at a political rally in 2014.
"The situation for freedom of expression is at an all-time low," Andrew Gardner, Amnesty's Turkey researcher, told the Times. "Countless unfair criminal cases have been brought, including under defamation and anti-terrorism laws — even children have been remanded in pre-trial detention," he said.
You can share this story on social media: