Jewish settlement firm accused of forging '14 out of 15' West Bank land deals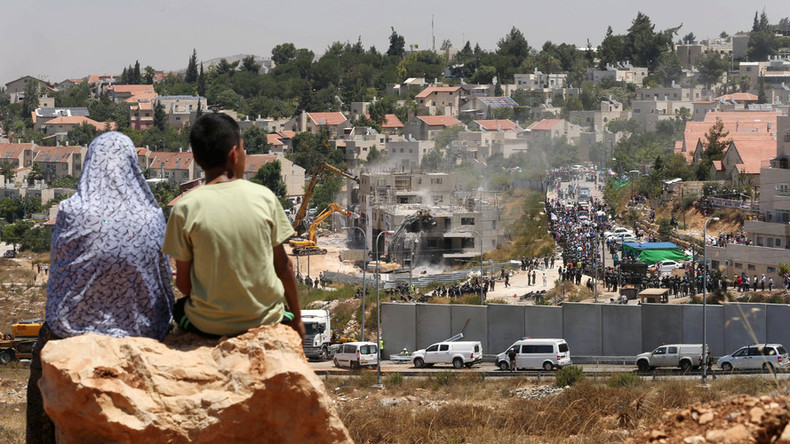 An Israeli pro-settlement company has been accused of forging acquisitions relating to more than a dozen real estate deals in the West Bank. A Channel 10 program alleged that 14 of 15 land deals police examined were fraudulent.
The Israeli authorities have been trying to clear illegal Jewish outposts from the Binyamin region of the West Bank. These include settlements such as Migron and Givat Asaf, which have proved to be flashpoints between pro-Israeli settlers and Palestinians.
An investigative report by Channel 10, as cited by Haaretz claimed that officials from Al-Watan, a company run by Zeev Hever, who has been a key figure in the Israeli settlement movement, were responsible for the forged deals.
Al-Watan is a firm that operates under Amana, a settlement-building arm of the right-wing activist movement Gush Emunim.
The investigation alleges that officials from Al-Watan would state they had purchased land from the owners who were Palestinian. However, the documents would more often than not prove to have been forged.
Al-Watan members used two Palestinian men who purchased the land after pretending to be the real landowners. They proved their identity and their claims by providing false documentation. Once they had bought the land, they would transfer it to Amana in a fake deal.
Haaretz cited the example of a man called Akram from the investigation, who spoke to Channel 10, explaining how the alleged fraud unfolded.
"I signed on many plots and lands." Referring to the land upon which the outpost of Amana was established, he said: "I signed in Silwad," referring to a West Bank Palestinian town northeast of Ramallah. "They told me there is land with such and such a number, and another plot with number … sign. I signed so many times for many lands. I made five or six deals."
Akram added he took part in the deal because he was promised he would be helped to obtain a permit to live in Israel, where his children are based. However, he added this assistance had not been forthcoming.
Al-Watan vigorously denies the allegations made by Channel 10.
"The police and prosecution have said that there are no suspicions against the company. No representative of the company has been investigated under warning. All the land was purchased lawfully and registered lawfully under the company's name. This is racism and anti-Semitism of the most vile sort, and it's a shame that Channel 10 contributed to it," the company said, as cited by the Times of Israel.
There are now about 550,000 Jewish settlers living in the West Bank and East Jerusalem combined, according to the Israeli government and think-tank statistics.
About 350,000 Palestinians live in East Jerusalem and 2.7 million in the West Bank, according to estimates in Israeli media.
Israel captured the West Bank area in 1967 in the Six-Day War. The UN Security Council, the UN General Assembly and EU refer to the West Bank, including East Jerusalem as occupied Palestinian territory. The Palestinians are seeking to establish an independent state in the West Bank, Gaza and East Jerusalem.
You can share this story on social media: