Greek footballers sit on pitch over 'brutal indifference' to refugee deaths (VIDEO)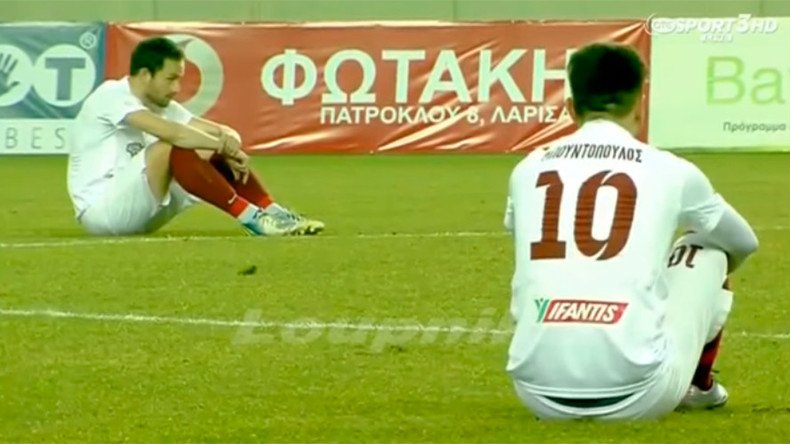 In a touching tribute to thousands of refugees who lost their lives crossing the Mediterranean from Turkey into the EU, two Greek football teams orchestrated a sit-in at the start of the match to protest against the policies of "brutal indifference."
All 22 players on the pitch sat calmly on the grass, refusing to play in honor of those who perished crossing the sea from Turkey into Greece, after the referee blew the whistle to start the football match between AEL Larissa and Acharnaikos on Friday. Coaches and medical staff of the two teams, who play in the second-tier Greek league, as well as the match officials, also sat on the ground to the applause of the fans.
An announcement over the stadium loud speakers said that the gesture was "in memory of the hundreds of children who continue to lose their lives every day in the Aegean due to the brutal indifference of the EU and Turkey."
The two minute silence was an effort to "drive the authorities to mobilize all those who seem to have been desensitized to the heinous crimes that are being perpetrated in the Aegean," Friday's announcement added.
Eventually AEL Larissa produced a comfortable 2-0 win over Acharnaikos in the Thessalian city of Larissa.
At least 52,000 refugees crossed the Mediterranean last month, according to the latest figures from the International Organization for Migration, 35 times more than the attempts registered last year.
"An estimated 52,055 migrants and refugees have arrived in the Greek islands since the beginning of the year," the IOM said. "This is close to the total recorded in the relatively safe month of July 2015, when warm weather and calm seas allowed 54,899 to make the journey."
More than 250 people have died attempting to make the crossing in January, including at least 39 people who lost their lives in the Aegean Sea on Saturday, after their boat capsized between Turkey and Greece. Ninety percent of those who reach Greece arrive from Syria, Iraq or Afghanistan.
READ MORE: Up to 40 migrants, including 5 children, drown as boat sinks off Turkey
Those who enter the EU alive and well through Greece are kept in refugee camps that have been repeatedly criticized for conditions not sufficient to meet the migrants' needs. On Tuesday, the European Union will announce new steps that Athens needs to implement to remedy "serious" failings in its handling of the migrant crisis, EU commission spokesman Margaritis Schinas told reporters Monday.
You can share this story on social media: