Photo of Chinese artist Ai Weiwei posing as drowned refugee child Aylan Kurdi sparks controversy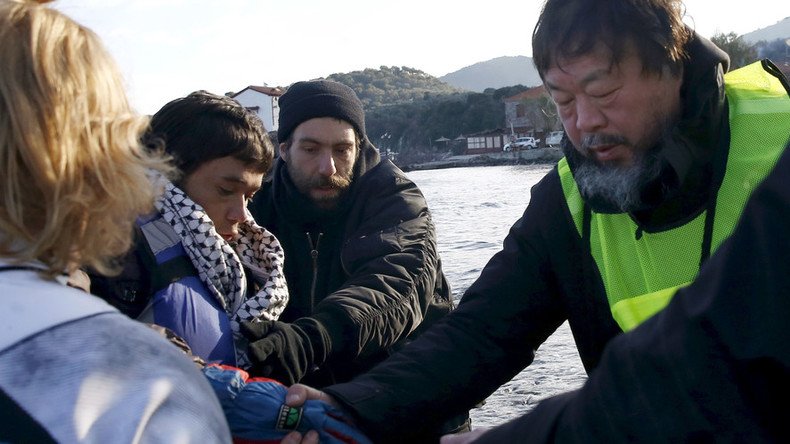 Chinese artist and activist, Ai Weiwei, has recreated last year's defining image of the refugee crisis: drowned Syrian toddler Aylan Kurdi lying face down on a beach.
The three year old's body washed up on a beach in the Turkish holiday destination of Bodrum last September.
Haunting images from the scene caused international outcry, and yet the refugee crisis has escalated as people make increasingly treacherous journeys towards the EU.
READ MORE: Gruesome photo of drowned toddler's body on Turkey beach fuels refugee debate (GRAPHIC)
Ai Weiwei lay on a pebbled beach on the Greek island of Lesbos in a similar pose to the body of Kurdi. The re-enactment of the image makes for uncomfortable viewing and has divided opinions on Twitter.
Weiwei recently opened a studio on Lesbos to highlight the ongoing humanitarian crisis. The island has become a focal point on the transit route for Syrian asylum seekers heading to Europe, given its proximity to Turkey and ferry access to mainland Greece.
Island authorities claim to have run out of burial space for migrants' bodies.
READ MORE:'Tragedy is forgetting humanity': Chinese artist honors refugees by working from crisis-hit island
Weiwei has also been using his Instagram and Facebook pages to highlight what he sees as similarities between today's migrant crisis and refugees fleeing Nazi Germany.
Weiwei pulled out of an exhibition in Denmark last week in protest at new measures which allow Danish authorities to seize valuables from refugees.
Last year, Weiwei received Amnesty International's Ambassador of Conscience Award and is considered one of the most influential figures in the art world.
The artist, who is highly critical of the Chinese government's stance on human rights and democracy, is known for his innovative actions to highlight political causes.
In 2012, a year after his detention by Chinese officials at Beijing airport, he launched Weiwei Cam, a self-surveillance project involving 15 cameras monitoring his house. He was instructed to shut down the live feed 46 hours after it launched - by which point it had received more than 5 million views.
Last year he found himself in a row with Lego after they refused to sell him more than a million toy bricks for a project aiming to depict political prisoners around the world in
Lego portraits. He branded the act as "censorship" and "discrimination".
The incident led to Lego reversing its policy on refusing to sell bricks in bulk if the buyer intends to use them for a political statement. "As of January 1st [2016], the LEGO Group no longer asks for the thematic purpose when selling large quantities of LEGO bricks for projects," the company said in a subsequent statement.
Weiwei also tried his hand at "Gangam Style", releasing a cover version of the hit by Korean singer PSY in 2012, but adding a pair of handcuffs to his version of the video.
You can share this story on social media: