Up to 40 migrants, including 5 children, drown as boat sinks off Turkey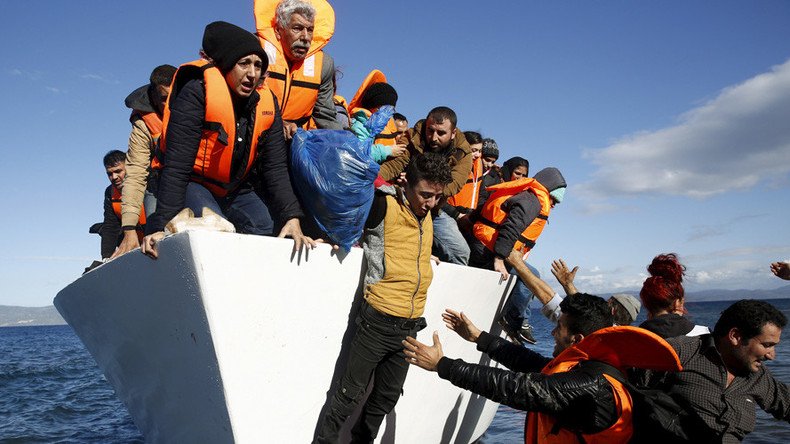 Almost 40 people have drowned in the Aegean Sea near the Turkey's western coast, as a migrant boat sank on its way to the Greek island of Lesbos, local media report.
A 17-meter boat was carrying at least 120 people before it sank off the coast of Ayvacik, a town across from the Greek island of Lesvos, according to the Dogan news agency. The agency says at least five of those dead are children while almost 40 dead bodies have been discovered.
"Local people woke up to the sound of screaming migrants and we have been carrying out rescue work since dawn. We have an 80-kilometre-long coast just across from Lesvos, which is very hard to keep under control", Mehmet Unal Sahin, the mayor of Ayvacik, told CNNTurk.
Turkish coast guards have managed to rescue 75 people so far near the resort of Ayvacik, located in the Marmara Region, popular with tourists.
The migrants were admitted to the hospital with hypothermia symptoms. The survivors allegedly came from Afghanistan, Syria and Myanmar.
However, the number of victims may be higher, as the rescue teams are still conducting search and rescue operation.
Over 210 people have died this year so far trying to make the dangerous sea crossing from Turkey to Greece, according to estimates by the International Organization for Migration. Last year more than 700 drowned or were reported as missing in the Aegean Sea. The organization called the Mediterranean Sea, which claimed the lives of 3,700 people attempting to reach Europe in 2015, the world's "deadliest."
Turkey is a primary destination for asylum seekers and migrants who want to cross to Europe. About 500,00 refugees from Syria fled the embattled country through Turkey since the beginning of the Syrian military conflict.
People, forced to abandon their homes by the perils of the war, often venture into Europe in overcrowded rubber boats, without any protection, as was in the case with Alan Kurdi, a three-year-old Syrian boy who drowned in September last year on his route to the Greek island of Kos. After the pictures of his body washed ashore in Turkish resort city of Bodrum, made global headlines, he became a symbol of the struggles the refugees have to endure trying to make it to Europe.
Turkey now hosts more than 3 million refugees, with about 2.5 million of them from Syria.
Last November, Turkey pledged to curb the flow of migrants streaming through its territory to the EU in return for 3 billion euros ($3.3 billion) of financial aid designed to provide better living conditions for the Syrian refugees already living in Turkey.
You can share this story on social media: