Austria to deport 50,000 asylum seekers by 2019, will offer €500 to those leaving voluntarily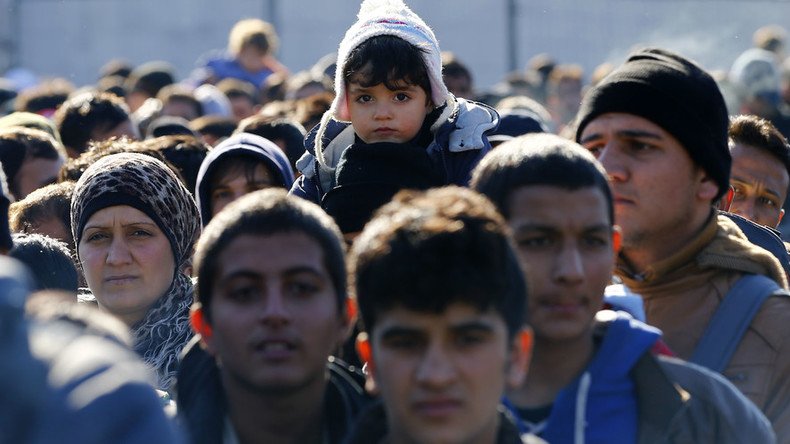 Austria plans to deport 50,000 failed asylum seekers within the next four years, after Vienna MPs last week approved a bill toughening admission policies for migrants.
"I think 50,000 is realistic [in terms of a number to deport]," Austrian Foreign Minister Sebastian Kurz stated.
"But at the same time, it is clear that many of the refugees who have come to us will stay here. We therefore need to stop the influx," he told the Austria Press Agency (APA).
The federal government will offer as much as €500 (US$544) in "return assistance" to migrants who leave voluntarily within three months after their asylum applications were rejected, according to the APA. The country is also considering using its C-130 Hercules military transport aircraft for deportations, Interior Minister Johanna Mikl-Leitner said, according to Reuters.
Vienna has added Morocco, Algeria, Tunisia, Georgia, Mongolia and Ghana to a list of countries described as 'safe,' enabling it to send asylum seekers back to those areas more quickly.
Kurz said late last month that Austria (with a population of less than 8.5 million people) recently accepted the second highest number of refugees per capita in Europe.
"Last year Austria had 90,000 asylum applications. This number is too high for a small country, and measured in terms of population, it is the second highest in Europe after Sweden," he told the Aargauer Zeitung daily.
The government said last month that it would seek to cap the number of asylum seekers at 37,500 in 2016. In the next four years, Austria plans to take in a number of refugees amounting to no more than 1.5 percent of its population.
"Anything else would overwhelm our country. The United States takes on only 10,000 refugees. Slovenia only 1,000. We saw 90,000 applications last year. We cannot cope, for sure," Kurz told the APA.
Last Tuesday, Austrian MPs approved a new bill that allows the fate of a refugee to be reconsidered for up to three years after they were granted asylum. It states that if asylum seekers are no longer in danger after a three-year period, they could be deported. Deportation is unlikely if a refugee is already well-integrated and there are humanitarian reasons why they should not be sent back, the new rules say.
The new policy also specifies how long asylum seekers will have to wait to apply to bring their family members to join them. Refugees under subsidiary protection need to wait for at least three years before applying. War refugees from countries like Syria have to apply within three months and convince the government that they have enough resources to support their family members. The Austrian government has promised that each case will be considered on an individual basis.
Last month Kurz said that refugees who refuse to attend special integration training courses in Austria as a part of a new program may see their social benefits cut.
"Those who are not willing to learn German, who do not want to be part of the labor market, who are not ready to attend an integration course, will face social benefits cuts," Kurz said in Davos. "The migrant inflow should be reduced but those who do have the right to get asylum should be integrated into society," the minister stressed.
READ MORE: No German – no money: Austria to fine refugees for refusal to take intergration classes
According to the new regulations issued by the Austrian Defense Ministry, the country is set to use its army to stop refugees intending to transit through Germany and not apply for asylum there, as hundreds are being rejected at the German border. More than 1,000 migrants with forged IDs are being turned around at the Austrian border each week. The soldiers' presence will be made "clearly visible" to deter migrants trying to find illegal ways into Austria.
German Finance Minister Wolfgang Schäuble also demanded the legal option of deploying Bundeswehr troops, following attacks on hundreds of women in Cologne on New Year's Eve.
Sexual assaults and harassment of women by male refugees and migrants has become a particular concern for European governments.
You can share this story on social media: