No German – no money: Austria to fine refugees for refusal to take intergration classes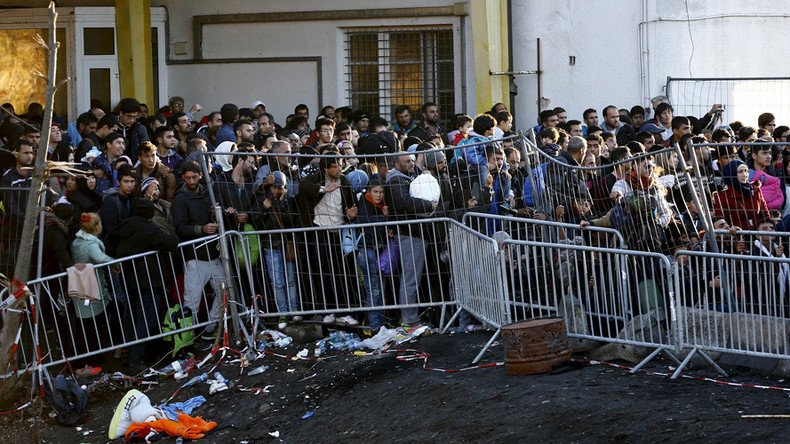 Refugees who refuse to attend special integration training courses in Austria as a part of a new program may see their social benefits cut, Austrian Foreign Minister Sebastian Kurz said.
"Those who are not willing to learn German, who do not want to be part of the labor market, who are not ready to attend an integration course, will face social benefits cuts," Kurz said at the economic forum in Davos, adding that "it is an absolutely necessary next step."
"The migrant inflow should be reduced but those, who do have the right to get asylum, should be integrated into society," the minister added.
His words were reiterated by Markus Wallner, the head of Austria's western Vorarlberg region. "Here can eventually be no avoidance behavior. Specifically, if someone avoids attending the values training course, [his] social benefits should be reduced," he said, as quoted by Austrian public broadcaster ORF.
Eight-hour 'value and orientation' training courses aimed at teaching refugees Austrian laws and social norms are a part of the broader integration program developed and agreed by the government and the heads of the Austrian regions on January, 20. The first courses providing places for 400 refugees each will start in February with the program envisaging two courses to be held each month.
The courses will cover the basic values embodied in the country's constitution, equal rights and equal treatment of men and women as well as other democratic principles. The courses are organized by the Austrian Integration Fund with the total budget of the project amounting to €5 million ($5.4million).
The courses are going to be taught in Arabic, Farsi/Dari and English. According to Wallner, the monthly number of courses could be increased in case of necessity. "We will see, how it will work in the first quarter [of the year], and can extend the offer if necessary," he said, as quoted by OE24.
Other measures envisaged by the new integration program include German classes and finding jobs for the approved asylum seekers, which could be a significant challenge due to the low qualification of most refugees. Only about 50 percent of the refugees already accepted by Austria will be able to find work in the next five years, Kurz said citing the data presented by the country's labor market service (AMS).
"Let's not delude ourselves. We have an intensive long lasting integration process ahead of us," the minister said as quoted by OE24.
At the same time, both Kurz and Wallner expressed their support to idea of introducing a cap on the number of refugees saying that Austria's capabilities are already overstretched. Both politicians advocated also stricter border controls.
Wallner claimed that cap on the refugee number is consistent with the Geneva refugee convention and refugees can be denied entry into the country as they already come from a secure third land. Kurz stressed that border controls have already become a "reality in Europe" adding that not only Austria, but Germany and Sweden should take in all refugees.
"We must clearly demonstrate, how many [refugees] we can accept and when our capabilities are pushed to the limit," he said, adding that Austria's capabilities are now "seriously overstretched."
On January, 20, Austrian Chancellor Werner Faymann announced a plan to introduce a cap on the number of new arrivals that puts the number of potential asylum requests the country could approve in 2016 at 37,500. In the next four years, Austria plans to take in a number of refugees amounting to no more than 1.5 percent of its population.
According to Sebastian Kurz, Austria, with its population amounting to fewer than 8.5 million people, has so far accepted the second highest number of refugees per capita in Europe, topped only by Sweden.
You can share this story on social media: