Asylum seekers to cost Germany €50bn within 2 years – forecast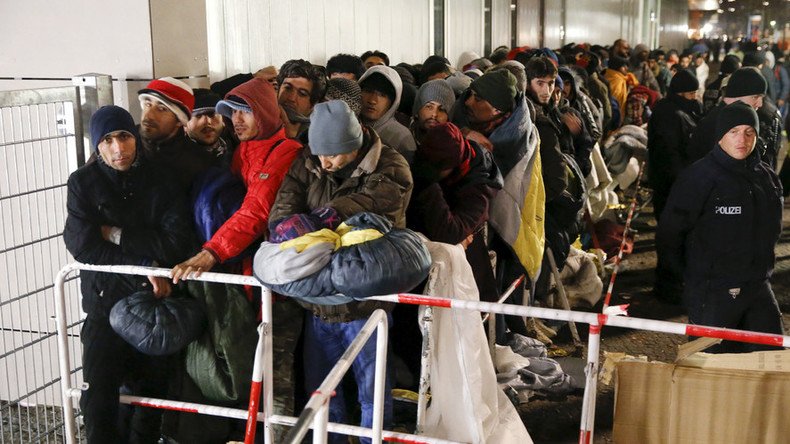 Germany is preparing to allocate tens of billions of euro for migrants' accommodation, integration and language lessons in 2016-2017. This year, Germany could let in some 1.5 million refugees, compared to 1.1 million in 2015.
A new forecast prepared by the Cologne Institute for Economic Research estimates the incoming asylum seekers will cost the federal budget about €50 billion (US$54.3 billion) in 2016-2017.
READ MORE: Germany to cut benefits to refugees who don't integrate – labor minister
In 2016 alone the expected 1.5 million refugees would force Berlin to allocate some €17 billion for them; language and integration courses would cost another €5 billion.
By 2017, migrant reception expenditures could grow to €22.6 billion, as the number of migrants surges to up to 2.2 million, the economists from Cologne predict. When the cost of language and integration courses is added the final bill could amount in 2017 to €27.6 billion.
Germany's Ministry of the Interior has reported that in 2015 the country welcomed 1.1 million asylum seekers.
If the predictions come true, Germany's Finance Minister Wolfgang Schäuble will be unable to form a balanced federal budget without new borrowings in 2017.
Many of Germany's federal states would have to increase their budget deficit in 2016 already, which would be contrary to the requirements of the debt brake, requiring all states to have a zero deficit from 2020.
About half of the states, including North Rhine-Westphalia, might not be able to fulfill their financial obligations because of the refugee crisis, Rheinische Post reports.
The sharp increase of the number of migrants in German cities has already caused mass incidents between the newcomers and the locals.
Chancellor Angela Merkel demanded that many refugees should leave Germany in the medium term, since the protection under the Geneva Convention was initially limited to three years, she said on Saturday at the CDU regional party congress in Mecklenburg-Vorpommern.
"We expect that once the peace is restored in Syria and Islamic State [IS, formerly ISIS] in Iraq is defeated… you go back home," Merkel said addressing the migrants.
You can share this story on social media: