Cologne sex attacks 'a matter of public order and not related to the refugee crisis' – EU Commission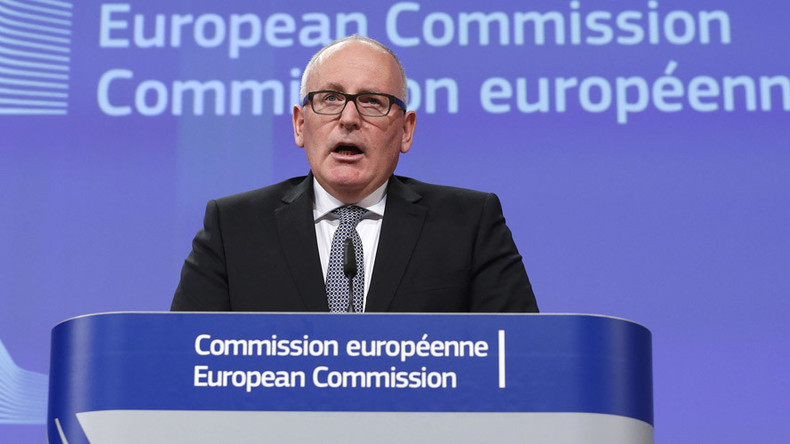 Frans Timmermans, vice-president of the European Commission, doesn`t see any link between mass sex assaults on New Year's Eve in Cologne and the ongoing refugee crisis, internal minutes has revealed. He also lamented the reintroduction of internal border checks within the Schengen zone.    
The Commission's members call for "unconditional rejection of false association between certain criminal acts such as the attacks on women in Cologne on New Year`s Eve, and the mass influx of refugees", as the minutes of the body`s meeting from January 13, suggest.
Mass sex assaults that saw groups of people, presumably of North African and Middle East origin, harass and rob roughly 1000 women in the German city of Cologne on New Year`s Eve drew special attention to the issue of integration of migrants from war-torn countries into the European community.
More than 800 complaints were filed with the police in the aftermath of the events, with about 500 of them related to offences of sexual nature.
Ralf Jager, interior minister of North Rhine-Westphalia, confirmed the majority of the 52 suspects identified were not German citizens. Twenty-five were from Morocco and Algeria, 15 arrived in Germany as asylum-seekers and 11 perpetrators were staying in the country illegally.
Timmermans also denounced the reinstatement of border controls between several European countries, members of the Schengen agreement, stressing that "checks at EU internal borders must not be reintroduced, otherwise the achievements of Schengen would be placed in jeopardy".
Earlier, several European countries such as Austria, Denmark, Germany, Sweden and Hungary took a stricter approach to the security of their borders by reintroducing internal checks in a bid to divert the overwhelming flow of migrants sneaking into the countries .
On Monday, following the EU ministerial meeting it was announced the EU would consider prolonging temporary border measures for a period of two years instead of the currently permitted six months limit amid the growing pressure from countries with a huge refugee intake.
However, he called the accusations of some European states, challenging the EU Commission on its inability to tackle the crisis as "unworthy" and reiterated that it remains "the guarantor of European integration and Schengen area".
Speaking about what can be done to alleviate the crisis, the commissioners listed two key areas where urgent measures should be taken.
They stressed the importance of creating so-called 'hotspots', processing centers where migrants are registered upon crossing the EU border and then relocated to one of the EU member states, as well as stepping up the EU external border security.
You can share this story on social media: