7.3 quake & multiple aftershocks strike Russia's far eastern Kamchatka Region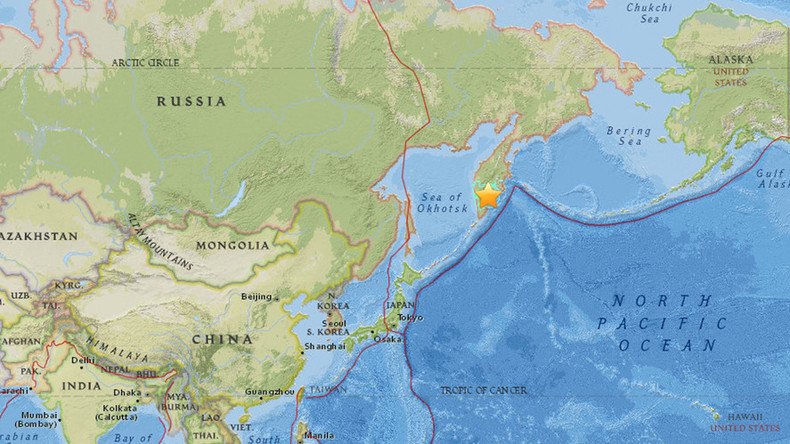 A strong, deep 7.0-magnitude earthquake rocked Russia's far eastern Kamchatka peninsula on Saturday, the US Geological Survey reported.
The quake hit 106 kilometers north of Petropavlovsk-Kamchatskiy, the capital city of Russia's Kamchatka Krai.
The depth of the earthquake was reported at 153 kilometers. There have been no immediate reports of serious damage or casualties. No tsunami warning has been issued.
The area was hit with at least seven aftershocks since the event, Kamchatka's Geophysical Service said. Five of them measured 2.0 and above, according to a spokesman. The remaining too - 4.5 and 5.2, respectively.
Rescue crews are searching and inspecting buildings, TASS quoted an emergency services spokesperson as saying. "There have been no reports of damage yet," Yulia Ananyeva said. "We saw furniture and doors shake as well as swinging chandeliers. Our office is one the first floor."
She added that the buildings in the area were built to withstand a magnitude 9 quake.
Meanwhile on social media, frightened witnesses posted descriptions of the strong tremors felt in the region.
Terrified shoppers quickly evacuated one of the local malls when people felt tremors from the quake. One resident andre_prilepsky posted a picture showing people waiting outside in the snow without coats on.
Ksenya Maksimova tweeted about the "unpleasant feeling … when everything is shaking," while several other young Twitter users said they "almost died of fright."
Others were more enthusiastic about their first time in a strong earthquake.

"Cool earthquake! Our telly nearly fell over!" Senya Mikhaylitskaya tweeted, adding that she and her friend were about to rush into the street when it all ended.
"The earthquake broke our bottle of Bacardi," stated Marina Brovkina, posting a pic of the shattered bottle of booze.
On Instragram, shamans_wood described the events as "action Kamchatka-style," saying that the quake actually felt different in different parts of the city – from the sights and sounds of bouncing cars, wailing sirens, and even visibly shaking houses, to almost no noticeable effect.
When a journalist posted a comment asking user svetakov1 if she had any video of the quake, she replied: "Taking a video is the last thing you think about in such moments. I was thinking about whether I should pull my cat from under the cupboard [if] she's dying there quietly … I hate those quakes."
You can share this story on social media: