Swedish police demand 4,100 new employees after stabbing attack at refugee facility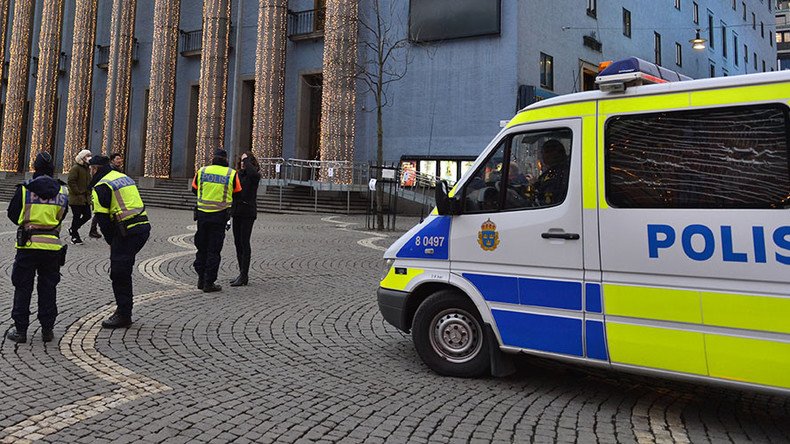 Swedish police have requested up to 4,100 new employees because of the current influx of refugees, which have increased the terror threat. The Swedish prime minister has supported the initiative after a deadly stabbing attack in a refugee facility.
Police wrote a letter to the government requesting between 1,500 and 2,500 more officers, as well as 1,600 more civil employees by 2020, Radio Sweden reported.
If the police staff is not increased, the country will be less safe with drug and traffic offenses being given less priority, National Police Commissioner Dan Eliasson said on Monday, according to Radio Sweden.
"I don't think the Swedish people want that, without the government and parliament listening to our request," he said.
Eliasson added that extra police forces are needed to step up border controls, ensure security in refugee accommodations, fight terrorism and exercise deportations.
"We have a lot of places where people are living for a long time in difficult conditions. These are small spaces where there are fights and disturbances. We need to have a presence there to make sure it's nice and quiet," Eliasson said.
Later on Monday, Swedish Prime Minister Stefan Lofven agreed that police need more staff because of the refugee influx the country is facing.
"The police authority have got ... a heavier workload because of the refugee situation. And then you need more resources," said Lofven, according to Reuters.
Along with extra staff, police also asked the government for more investment in facilities, equipment, vehicles and training. They say they will need an extra $210-$320 million for 2017 to 2019.
Minister for Home Affairs Anders Ygeman is cautiously optimistic about the government's ability to satisfy the police demands.
"If we have a situation with border control that we haven't had since 1994, if we have the greatest terrorist threat since this scale was introduced, well then eventually it will be necessary to give more resources to the police," he said, as cited by Radio Sweden.
Sweden raised security concerns after a deadly stabbing attack at a center for underage, unaccompanied refugees in Mölndal, southern Sweden on Monday where a 22-year-old female staff member was killed by a 15-year-old male asylum seeker.
In another incident, a police patrol consisting of 10 officers was forced to flee the Västerås refugee center in Sweden after being surrounded by a mob of violent migrants last Wednesday. The police wanted to relocate a 10-year-old boy, after reports that he had been subject to repeated rape.
Swedish authorities said last month that the country has hit its limit in terms of receiving asylum seekers and reintroduced border checks. Last year, Sweden accepted about 200,000 migrants and refugees.
You can share this story on social media: