Russian traveler Konyukhov sets new world record for balloon-flight duration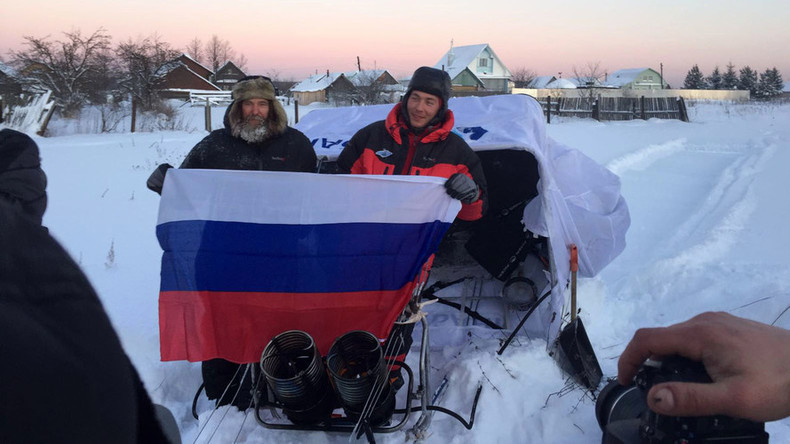 Russian adventurer Fyodor Konyukhov, 64, has set a new world record for hot-air balloon flight duration. Konyukhov and his teammate Ivan Menyailo have beaten William Bussey's 1993 record, which stood at 29 hours, 14 minutes and 35 seconds.
Under FAI (Fédération Aéronautique Internationale) rules, to set a new world record, pilots have to improve the present record by at least 1 percent.

The balloon operated by the daredevil Russian traveler took off from the Sonino airfield in Russia's Tula Region early Sunday morning. The travelers spent 32 hours and 20 minutes flying their hot air balloon, according to Konyukhov's official website.
"It was freezing up there. At night the temperature lowered to -35 degrees Celsius (-31 Fahrenheit) while at daytime it went up to -20C (-4F). The condensed water from the balloon was dropping upon us turning in icicles and we were very cold," Konyukhov said in an interview to RT.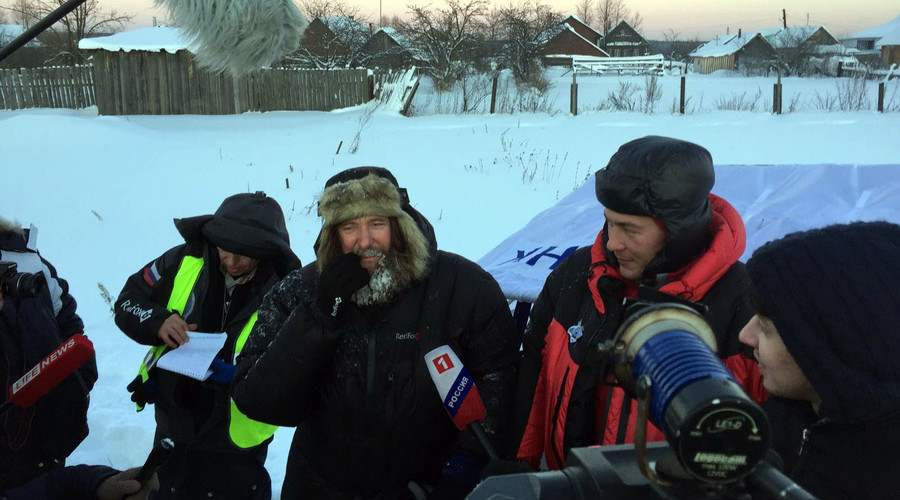 "It's been a good lesson for me. I should now go through the gear I am about to take with me when I set for the next journey that will start on the North Pole," he said.
"We've had so much to do that we barely had time to eat or drink. We didn't even have time to talk to each other," the traveler told RT, adding that, even so, at one point they managed to grab a bite of a chocolate bar and have a sip of water. Drinking tea won't do any good when one is up there in the cold, let alone vodka, he said.
The travelers took some 50 cylinders each filled with 46 liters of gas. They were dropping cylinders one by one when they ran out of gas, while their support team was following the balloon and collecting the drop-out.

"We've been preparing for this flight for a whole year, building up physical and financial resources," the traveler said.

Konyukhov, who is also an Orthodox priest, set Russia's record in 2015, when his balloon journey lasted over 19 hours.

The current flight came as part of preparations for a round-the-world balloon flight, which Konyukhov plans to conduct in summer at an altitude of 11,000 meters (36,089 feet). He plans to take off from Australia and spend more than two weeks flying over New Zealand, Chile, the Falkland Islands, Argentina, South Africa and then back to Australia.
Konyuknov said his family is extremely supportive of whatever adventure he undertakes. The traveler has three children, six grandchildren and a wife rooting and waiting for him at home. One of his sons, Oscar, follows him during all of the adventures.
Konyukhov set his previous world record in 2014. During a solo-rowing voyage across the Pacific Ocean he managed to reach the Australian coast, completing his adventure in a record 162 days. Konyukhov started his exploit from the Chilean port of Concon on December 22, 2013 and finished in the eastern Australian town of Mooloolaba, in the state of Queensland on May 31, 2014. The traveler wrote in his blog that he covered the distance of more than 17,408km (9,400 nautical miles) on the Turgoyak rowboat, crossing the ocean single-handedly, without entering ports and without any external help or assistance.
READ MORE: 62 yo Russian solo sailor crosses Pacific on rowboat covering 17,000km in just 162 days
In 2002 Konyukhov set a world record by crossing the Atlantic Ocean on a 7-meter rowboat, the Uralaz, in 46 days and 4 hours. That record remained unbroken for 11 years.
You can share this story on social media: